It seems like just yesterday we were looking back at the fall semester, but here we are in June, with another term already behind us. We thought we would take the opportunity to provide a quick look at what we were up to this spring.
Class Visits
It was another busy semester for Special Collections instruction sessions! The following courses each had at least one class with us:
ARTS 315: Communicating with Type (Alessandro Segalini)
ENG 333: Women and Society in Medieval Literature (Marilynn Desmond)
ENG 517: Gender, Sexuality & Manuscripts (Marilynn Desmond)
FREN 480I: French Before France (Jeanette Patterson)
HIST 381E: Sex and Society in Medieval Europe (Elizabeth Casteen)
MDVL 481A: The Hidden Lives of Medieval Books (Bridget Whearty)
MDVL 501: Manuscripts, Media, Materiality (Bridget Whearty)
MUS 301: History of Western Music I (Paul Schleuse)
THEA 569: Theories of Acting and Directing (David Bisaha)
We also held Zoom sessions with:
ENG 270: U.S. Literature to 1920 (Mary Grace Albanese)
ENG 380J: Zombies of the Anthropocene (Mary Grace Albanese)
To schedule an in-person or virtual instruction session for the fall 2022 semester, please submit this form.
Exhibitions
The spring semester's main exhibition highlighted another selection of Recent Acquisitions, including a James Gillray print spoofing the late 1790s Gothic novel craze in England; a 1696 book of recipes for food and medicine, William Salmon's Family-Dictionary; samples from a collection of ten Japanese Buddhist amulet scrolls; several nineteenth-century storybooks and ABCs for children; and the first book printed with moveable music type in America, an edition of the Psalms published in New York in 1767. The exhibit also featured prints from a collection of ninety works on paper created by students in printmaking classes taught by Professor Emerita Linda Sokolowski at Binghamton University between 1974 and 2004.
These and other new acquisitions were also featured in four open house events this spring, including a memorable reception for alumni and friends during the University's Excelerate Campaign Launch Day on April 9.
Also on display throughout the semester was Diamond in the Rough: A Look Back at the University's Inaugural Year, 1946-1947. This exhibition, to mark the 75th anniversary of the founding of Triple Cities College, features newspaper articles, the first yearbook and course bulletin, and images taken during the first year of operations.
Both exhibitions will remain open until late July 2022 for walk-in viewing during our regular hours (Monday through Friday, 10 a.m. to 4 p.m.).
Collections Processing
We continue to process archival collections and add records for both processed and unprocessed collections to ArchivesSpace. This semester the guide for our collection of Peter Wexler papers was reformatted and updated, and Special Collections librarian Jean Green began creating an online guide for the extensive Theatre History collection, which will continue to expand as additional materials are processed.
Farewell Yvonne, Welcome Maggie!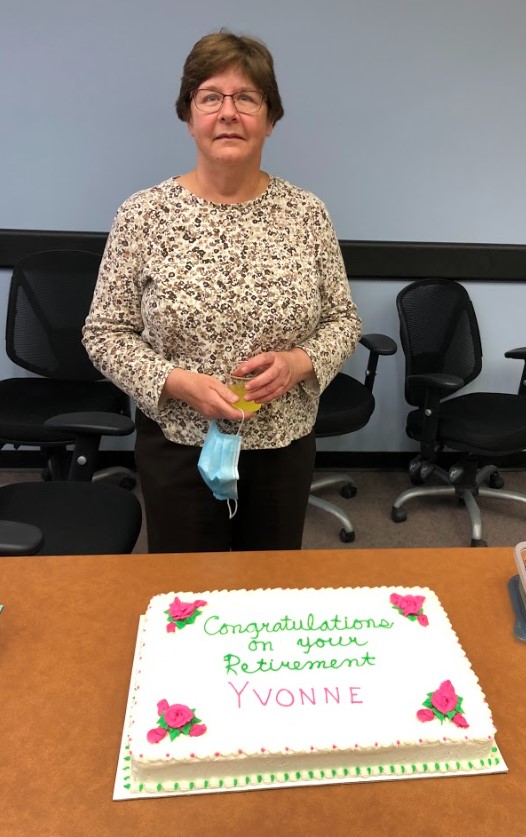 This spring we bid a bittersweet farewell to Binghamton University's inaugural University Archivist, Yvonne Deligato, who is retiring after more than two decades at Binghamton. Yvonne has been instrumental in the development and growth of the university archives and local history collections, and we will all miss her tremendously.
Yvonne's successor as University Archivist is Maggie McNeely, who joins us from Brandeis University. Maggie is skilled in the acquisition, processing, and collections management of primary source materials related to the University; she has worked on a number of projects involving digitized and born-digital material, and has extensive experience with the content management system ArchivesSpace. We are very glad to have her with us!