The Libraries' Special Collections department has inaugurated a juried student book arts competition that recognizes the creativity of Binghamton University students and promotes engagement with the book arts. The recipient of the award will receive a purchase prize of $500 and their work will become the property of Binghamton University as part of the holdings of the Libraries' Special Collections. The winning piece will be discoverable through the Libraries' catalog, and will be used in teaching and research, in physical and virtual exhibitions and in publicity/outreach.
Eligibility: To be eligible, the undergraduate or graduate student must be enrolled in Binghamton University, and have completed the work within the 2021-22 or 2022-23 academic year as part of course requirements. Eligible works are those that are inspired by, engage with or challenge the book form and/or the idea of the book; including artists' books, found art, and works that combine typography, graphic design, letterpress printing, printmaking, photography, digital techniques, bookbinding, or papermaking. The work must be unique or a limited edition multiple. Artists may submit no more than two entries for this competition (complete an entry form for each submission).
Submission must include:
Original book arts piece
Completed online entry form
Submission Deadline: All artwork must be delivered to Special Collections (Bartle Library, 2nd floor north), between April 25, 2023 and April 27, 2023, 10:00 am – 4:00 pm. To drop off submissions at other times, contact speccoll@binghamton.edu. If the original artwork cannot be delivered by the deadline because it is in a student exhibition or has been turned in to a professor for grading, please submit the entry form and contact us to make other arrangements for the delivery of the artwork. The deadline to submit the online entry form and artwork is 4:00 pm on Thursday, April 27. No late submissions will be accepted, except as noted above.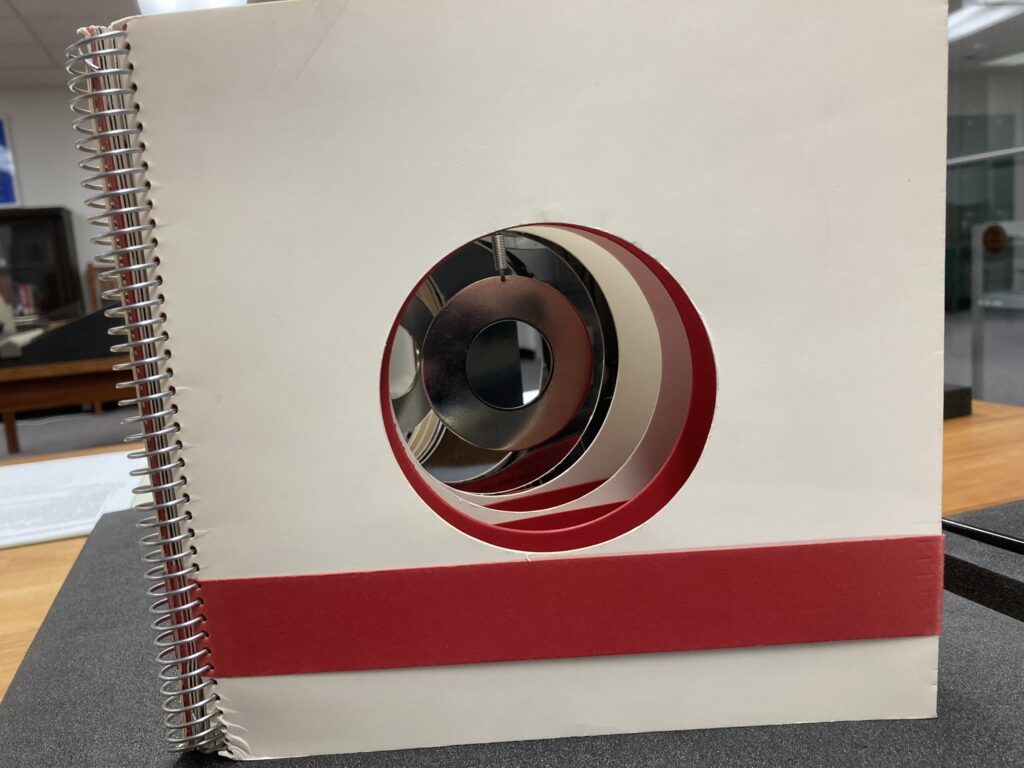 Open House Exhibition: All submitted artwork and artist's statements will be exhibited in Special Collections on Wednesday, May 3, 10:00 am – 6:00 pm.
Return of artwork: All works will be returned by arrangement except the prize winner, which will be retained by the University Libraries. If the winning artwork is to be part of Open Studio Night in the Department of Art & Design, the piece will be released for that purpose.
Copyright: Copyright to all entries remains with the artist.
Liability and Responsibility: Binghamton University Libraries' Special Collections will take all reasonable precautions to ensure the protection of the works while in its care, but does not assume responsibility for damage or loss. Works will be exhibited in the Professor Bernard F. Huppé Reading Room in Special Collections (LN2320). Access to Special Collections is controlled and the reading room is monitored, but the works will not be in locked cases.
Submission of an entry assumes permission for Binghamton University Libraries to photograph and use or reproduce images for publicity and marketing for any exhibitions, events, websites, and/or digital repository. The competition winner agrees to relinquish the work for the purchase prize in the amount of $500 to become the property of Binghamton University. Entrants agree to all terms and conditions set forth by Binghamton University Libraries.
Contact speccoll@binghamton.edu with any questions.