"Farming Empire: Agriculture and Related Industries in Upstate New York" is now on display in Special Collections. This exhibit draws on manuscripts, rare books, and printed ephemera held in Special Collections to showcase the long history of farming and agriculture-adjacent industries in the upstate region. From apples and dairy to hops and poultry, agricultural products have been a key component of the local economy for generations: the materials featured in this exhibit highlight some of the many ways in which upstate farmers shared information, advertised and promoted their products, and dealt with hardships such as pests and the rigors of wartime.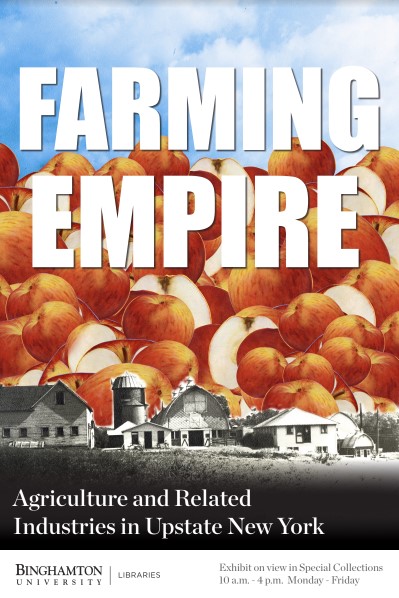 Items on display include ephemera, milk bottles, and photographs from Hazard Lewis Farms, which once occupied the site of Binghamton University's main campus; an 1859 broadside advertisement for a new butter churn designed in Morris, Otsego County; a local Civil War letter mentioning high costs and labor shortages during the conflict; and an 1873 railroad shipping receipt for hops sent from Charles Green and Son in Madison County to the D. G. Yuengling company in Pottsville, Pennsylvania, the oldest operating brewery in North America.
The exhibit focuses on agricultural production and related industries in the nineteenth and early twentieth centuries by Euro-Americans. However, we recognize that the Indigenous Haudenosaunee and Algonkian peoples of the Southern Tier and Upstate New York have been farming this land for millennia. Central to their agriculture and food traditions are the Three Sisters: maize (corn), beans, and squash. They figure prominently in Indigenous creation stories, are grown symbiotically together, and their nutritional complementarity are key to Indigenous diet and health. Last spring, Binghamton University partnered with the Onondaga Nation to plant a Three Sisters Garden in the Science 1 courtyard. The garden honors the Indigenous peoples who call this land their ancestral home.
Stop by anytime Monday through Friday, 10 a.m. to 4 p.m., unless otherwise noted in the Libraries' posted hours. No appointment is required to view the exhibit. Special Collections is located on the second floor of Bartle Library, North.
We will also hold two open houses during which visitors can view the exhibit as well as some additional examples from our collections: Friday, October 7 from 4:00 to 6:00 p.m. during Homecoming Weekend, and 1:00 to 3:30 p.m. on Wednesday, October 12 for National Farmer's Day.