The Changing Hands blog series explores the backstories of books in Special Collections by focusing on the marks left behind by those who owned, read, or sold them before they were acquired by the Binghamton University Libraries.
Inscriptions written in pencil or ink by previous owners are by far the most common marks of provenance in books found in Special Collections (or, indeed, even in the browseable stacks in libraries, in used bookshops, and very likely on our own bookshelves).
Sometimes these inscriptions are no more than a previous owner's initials or surname; when this is all one has to go on, making a conclusive identification can be very difficult. Even when a full name is provided this can sometimes be complicated: there have been many people named "Jane Smith" or "John Adams" over the centuries, so if you find a name like that written on the title page of an old book, without additional information it may be very complicated to confirm which specific Jane Smith or John Adams your book belonged to.
Other names are a little more helpful, though, and one of those is found on the title page of a copy of Nathaniel Bailey's Universal Etymological English Dictionary. Written at the foot of the title page is "Bought of John Dennison by Naboth Chesebrough in 1771."

Naboth Chesebrough is an uncommon enough name that a few minutes with Google and Ancestry.com (a genealogical database available to Binghamton University users through the Libraries' website) can tell us at least some basic information about who he was. Born in Stonington, CT in 1751, Naboth married Phebe Palmer in October 1775, and died on January 27, 1804. Through the Find a Grave website we can even pull up a picture of his tombstone in the Wequetequock Burial Ground in Stonington.
Naboth Chesebrough didn't just write his name once in his dictionary. On a blank leaf at the rear of the book we find two more inscriptions:
Naboth Chesebrough
His
Dictionary Bought at
John Denison's 5th
June 10th 1771
Price £ 0 – 13 – 16 = $2.25
and
Naboth Chesebrough His
Dictionary Bought of John
Denison the 5th 1771
Stonington Nov'r the 2d 1774
The John Denison from whom Naboth Chesebrough bought this dictionary is likely the man known as "Merchant John" Denison (1701-1777) of Stonington. His third wife was Sarah Chesebrough, a distant cousin of Naboth.
This volume also bears the marks of later owners: on the front free endpaper is a small ink stamp "Henry B. Noyes," and under that in pencil overwritten with ink: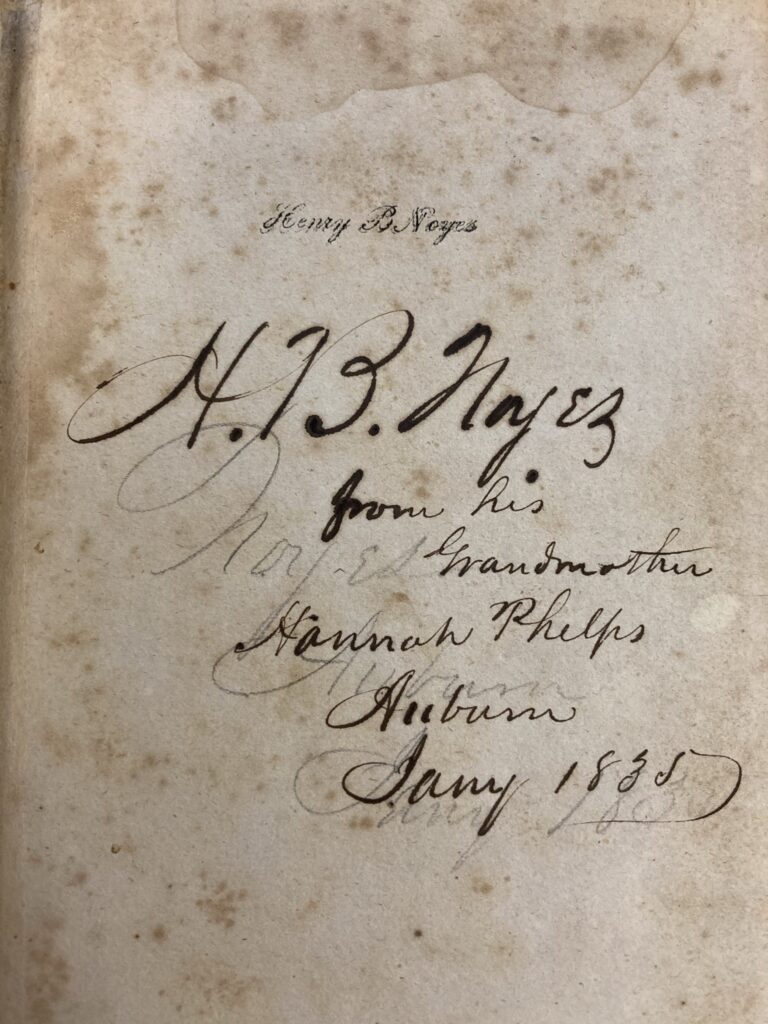 H. B. Noyes
from his
Grandmother
Hannah Phelps
Auburn
Jan'y 1835
A bit more work with the genealogical databases helps us confirm these names: Henry Babcock Noyes (1814-1889), then, received this book in 1835 from his grandmother, Hannah Babcock Phelps (1773-1842), the widow of Joseph Denison Phelps (1769-1809). Joseph Denison Phelps was perhaps the owner after Naboth Chesebrough who added a memorandum on a blank leaf at the back of the book about the state of the weather in April, 1806 (it was colder than usual, with snow squalls).
The volume was rebound around the time it passed to Henry Babcock Noyes; we can be fairly confident of this, since we find on the front pastedown the label of Luther Howard, a bookbinder in Auburn, NY. We will take a closer look at labels like this in a later post, but this is a nice example of how they can add context to what we know about a book's travels over time.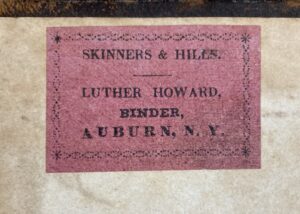 And how did this dictionary come to Binghamton? It was the gift of Harpur College's very own Monuments Man, art history professor Kenneth C. Lindsay (1919-2009), many of whose books can be found on the shelves in Special Collections and the circulating collection.
* * * *
Bailey, Nathaniel. An Universal Etymological English Dictionary. London: Printed for J. Buckland [et al.], 1770. ESTC T127543. Special Collections PE1620.B3 1770.