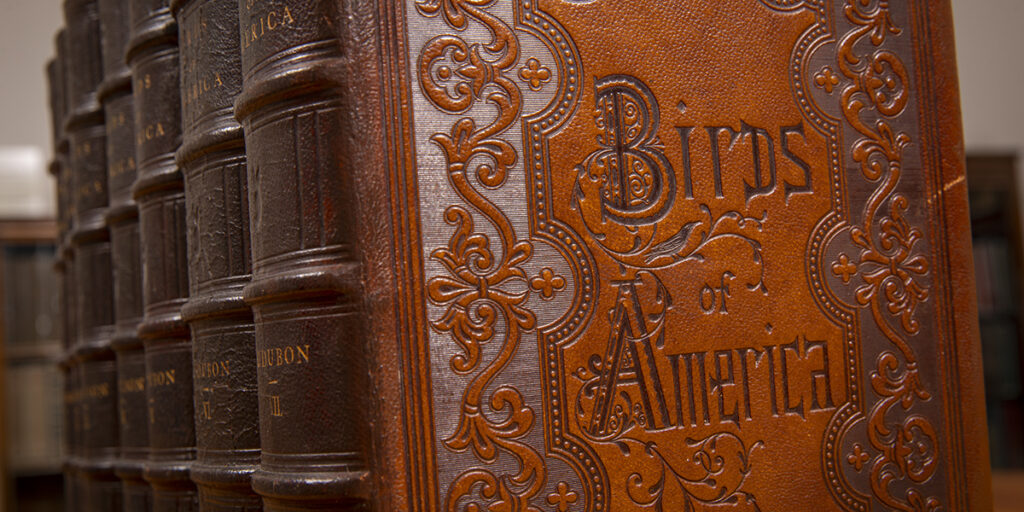 Our Special Collections Department has acquired an 1859 octavo edition of John James Audubon's Birds of America and it is glorious! With 500 hand-painted plates of the highest quality, this exquisite seven-volume set is a remarkable text organized by taxonomy. This incredible accounting of natural history includes full-color illustrations accompanied by Audubon's scrupulous observations of each specimen's nest style, favored geographical locale, unique call and other behavior patterns. The scholarly implications of such a text are endless and, according to Special Collections Librarian Jeremy Dibbell, perfectly aligned with the Libraries' mission.
Audubon's Birds of America will be a teaching tool for in-person classes in varied disciplines. This original master work is an expression of a devotion to the natural world and provides exciting opportunities for scholars in biology, anthropology, environmental studies, art and other areas. Recently, Anne B. Clark, Bartle professor of biological sciences, led the discussion "The science in scientific collecting: What good are old rocks, old bones and pressed plants?" Her emphasis on how the value of well-preserved purely scientific historic records only increases over time is a direct complement to the Libraries' commitment to archival and printed resources that enrich the existing rare book and manuscript collections at Binghamton.
The Audubon exhibit is open for walk-in visits Monday through Friday from 10 a.m. to 4 p.m. until December 17, 2021.