In 1973, Binghamton University ― led by Professor Richard "Dick" Andrus ― started an important conversation. His planning and meeting outpost, which at the time was a room in Chenango-Champlain Hall, eventually grew into Binghamton's highly-regarded Environmental Studies Program.
Susan Boyle '78, an alumna of the program, recalled Andrus' energy and commitment in a recent Zoom meeting with faculty librarians Jen Embree and Neyda Gilman. The meeting turned into a lively discussion of resiliency, environmental justice and the new Sustainability Hub at the Science Library.
With a Sustainability Libguide in place, and two grants from the American Library Association secured within the past year, the Sustainability Hub's future is bright. Its mission is to foster collaboration by making strong connections with faculty and students to help cultivate sustainability research, and to bolster engagement across the campus community by creating and sponsoring multiple sustainability programming opportunities through the Science Library.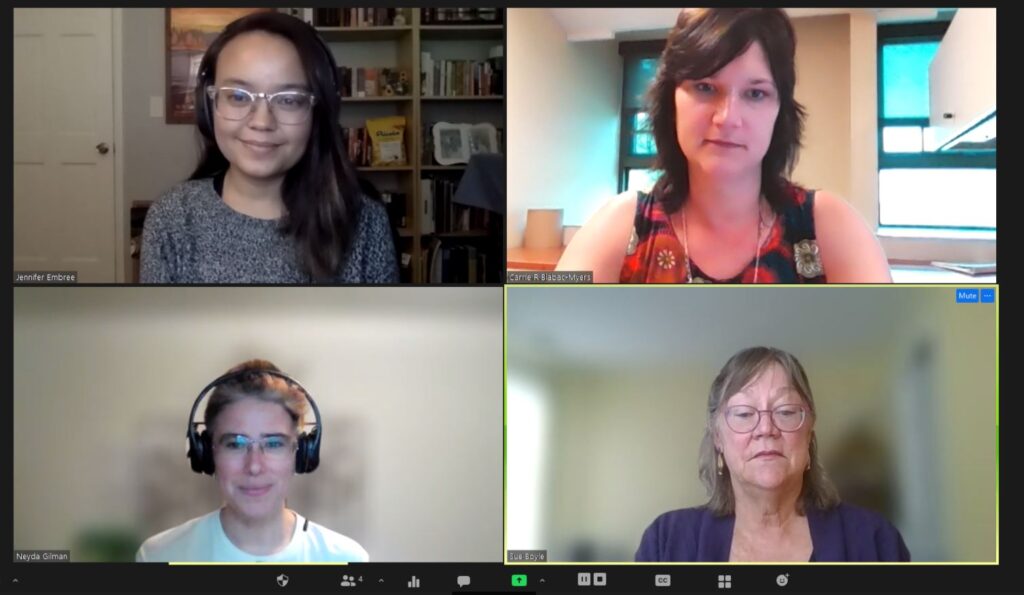 The hub is an information network run by Embry and Gilman on behalf of the Libraries. It provides both a physical and a virtual space for the exploration of solutions to environmental issues that affect our community and the world.
Boyle feels the aspirations for the hub are achievable and the project will provide valuable experience for a variety of career paths from biology to urban planning. Librarians were not a group that Boyle had initially considered as allies, but she says the Sustainability Hub could lead to additional learning and teaching opportunities for students seeking careers in environmental studies. The meeting generated ideas for possible future projects. Could there be a GIS mapping project designed to trace patterns of factory placement and the potential impact of such projects on underserved communities? Are students learning the power of risk communication? Are experiential learning opportunities surrounding the proposed lithium recycling plant in Endicott available? Would student groups such as Zero Hour be interested in collaborating on new ideas? Meeting new people, shared strategies, connecting and learning from one another are all part of the magic that happens when Binghamton alumni give back!