Binghamton University Libraries serve every discipline on campus. To some, the Libraries are a group of quiet rooms surrounded by books or the best place to study and meet study partners. For others, the Libraries represent research opportunities and discoveries in the stacks that lead to completed pages of a dissertation. Still other library lovers come to know the institution on a meta-level, and their appreciation for the institution turns into a career in library and information science.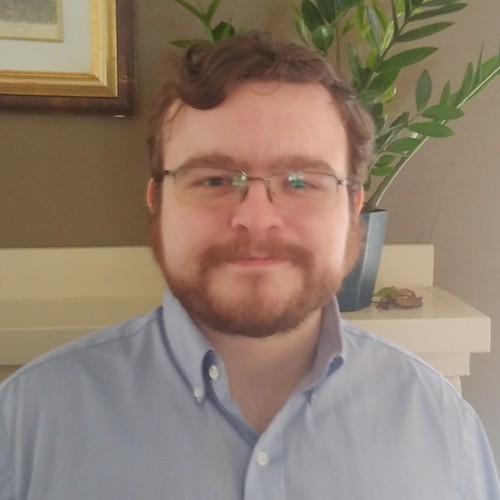 After earning a bachelor's degree in mathematical sciences from Binghamton, Marcus Dirr '16 went into web development. He is taking master's level courses in library and information science and hopes to complete his degree soon. Dirr recalls not having a local library to call his own until he was 15 years old. His family had been living in Spain due to his father's work, and library access was limited. But he remembers, after moving to New York state, when he became a patron of the Village Library of Cooperstown. "I was a voracious reader as a child, and finally having somewhere to read books in English was an absolute treat." Now he dreams of a career working with archival collections and rare books.
As an undergraduate, Dirr worked nights at the Binghamton University Libraries, starting his shifts at 2 a.m. He recounted how the population of the library would multiply by 10 during exam weeks.
"The most influential aspect of the Libraries while I was an undergraduate student was that it had publicly available copy machines," Dirr says. "I have a hearing impairment, which resulted in me needing a note taker for each of my classes. If the library didn't have those copy machines, I wouldn't have had any notes for my classes."
Dirr said that, ultimately, he decided to go into library science because so many of his fondest memories took place in libraries and he offered a bit of advice to incoming students: "I was always afraid of wasting a librarian's time by asking questions. I shouldn't have been. That is, quite literally, why they're there."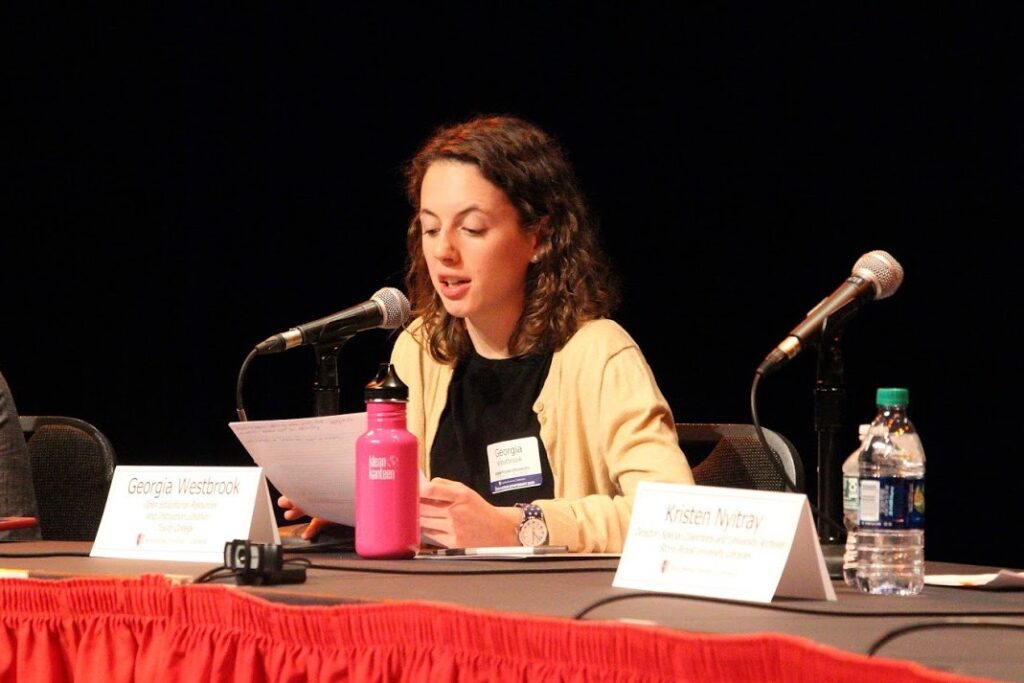 Georgia Westbrook '18 is currently the project coordinator for the Office of Medical Education at the NYU Grossman School of Medicine. Prior to that, she enjoyed an internship at the Bartle Library. She received her training from Erin Rushton, head of digital initiatives and resource discovery, and Yvonne Deligato, University archivist.
Westbrook is one of those librarians who has "always been a reader." Growing up in the Triple Cities, she took advantage of Your Home Public Library in Johnson City, and the Vestal Public Library as well as the George F. Johnson Library in Endicott.
"Libraries can be and provide whatever you need: a place to study or have a coffee between classes, assistance with research or writing, shelves of books to read, or all of those or none of those," Westbrook says. "You don't have to be a perfect student, or even a great one, to find a connection to the library. I used interlibrary loan all the time. I could get almost any book I wanted so quickly, and I loved to think about the library that the book was originally from ― even books from a library just a state away felt exciting."
A conversation with Westbrook quickly moves to poignant themes in library science, and one with particular significance today that she brought up was social justice.
"The COVID-19 pandemic has accelerated the conversations around equity and making scholarship and educational materials more equitable, and I think that will continue to be a priority in libraries generally and in my career, too," she says.
In agreement with this statement, and accepted theories surrounding educational equity within academia, the Binghamton University Libraries are participating in an internal audit of operations to ensure that they support ideals within the Black Lives Matter movement.
Libraries have long existed as bastions of civil expression, inclusion, democracy and intellectual freedom. It takes passive and deliberate work to ensure this legacy. When students choose careers in library science, libraries live on and the causes that librarians champion influence our society for generations.