Nineteenth century rare books, daguerreotypes, and twenty-first century digital imaging technology converge to help us glimpse the lives of people in the 1840–50's.
Todd Pattison remembers the first time a daguerreotype really caught his eye. "A friend who collects nineteenth century photographs alerted me to a daguerreotype that he had seen for sale. There was a young boy in the image holding a book with a striped binding, which I recognized as a particular type of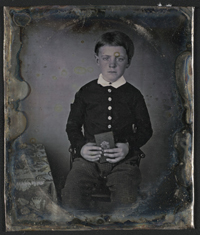 printed pattern cloth that was used as a binding material for only a few years in the late 1840's. These bindings are quite rare to find today and I was surprised that you could make out the details of the cloth pattern in the photo." Pattison continued, "The boy was obviously proud of his book and wanted to hold it so that it was visible to anyone who might view the photograph.  It was almost as if he was telling me, 'Yes, this is a beautiful book.'"
Pattison, Senior Book Conservator at the Northeast Document Conservation Center, is also a passionate book collector with a particular interest in mid-19th century cloth publisher's bindings. He has become recognized as quite an expert on the topic and has lectured on the subject at Bryn Mawr College, the Library Company of Philadelphia, and the Grolier Club. He will be teaching a course on American Publisher's Bindings at Rare Book School at the University of Virginia in 2014.