Over the past 15 years, Jill Dixon has made her mark at the Binghamton University Libraries in more than one way. Coming on board with a wealth of knowledge and experience working with the media for various non-profits, she started her Binghamton career as the engineering librarian. During her time at Binghamton, Jill has used her knowledge and expertise to take on a variety of leadership roles throughout the Libraries. In her most recent role of Interim Dean, she ushered the Libraries through a time of rebuilding with the launch of its new strategic plan.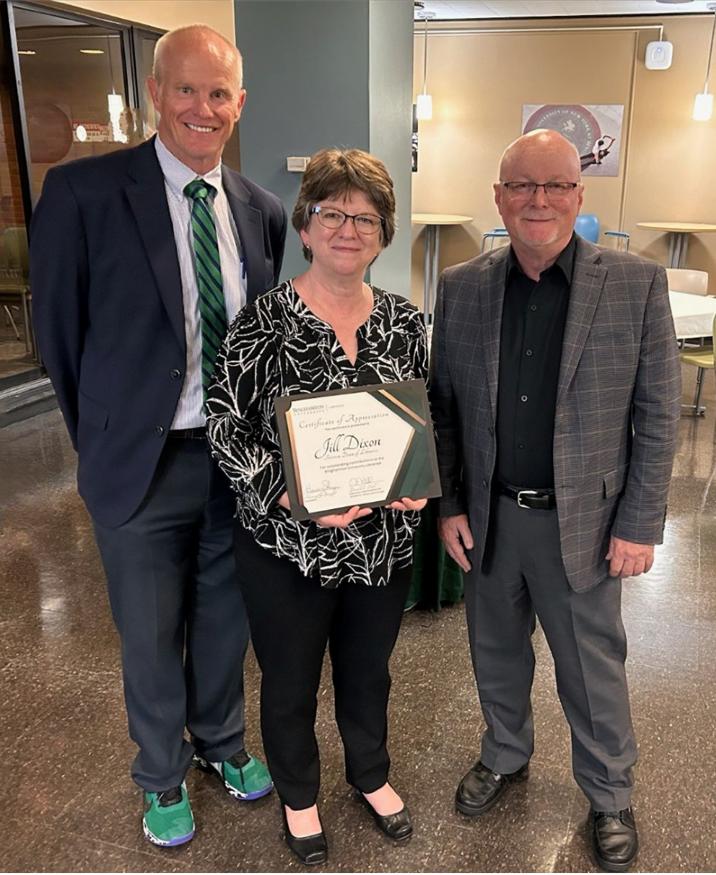 "It was my great pleasure to work with Jill Dixon as Interim Dean of Libraries for 2022-23," said Donald Hall, provost and executive vice president for academic affairs. "She is an incredibly knowledgeable and highly skilled administrator who helped finalize and begin implementing the library's strategic plan and who served as a key member of my leadership team. Her kindness and collegiality will be especially missed but I wish her well on her exciting new endeavor!"
As Dixon closes her chapter at Binghamton, she opens her next chapter in Pennsylvania as the new Dean of Libraries at West Chester University. As the Libraries share a fond farewell and look forward to its own next chapter, Jill's positive impact on the Libraries will be felt for years to come.
"On behalf of the entire University, I'd like to thank Jill for her 15 years of outstanding service to the campus community," said Binghamton President Harvey Stenger. "Jill's work in the University Libraries has covered virtually every aspect of librarianship, from science and subject librarian to Interim Dean. During that time, she has helped develop the Library as a critical resource for a nationally- recognized, research-intensive university, while expanding services and access for a growing student population.Equally important, she has helped transition the library from an outdated place of quiet individual study to a vibrant space for group study and collaboration. She's guided the Library through a visionary strategic plan and encouraged its fundraising initiatives, all during a major once in a lifetime renovation of the University's main library. Congratulations to Jill on her new job, and deepest appreciation for her commitment and dedication to Binghamton University."
---
Read more about Jill's journey to the Libraries at
libnews.binghamton.edu/news/2022/11/14/interim-dean-of-libraries-jill-dixon-shares-unique-path-to-the-libraries/