This fall, the Libraries introduced Jill Dixon as the interim dean of Libraries while a search for the next Dean of Libraries is underway. While this may be a new position, Jill is no stranger to the library world. However, her journey to get to where she is now has been unique.
Growing up in Delaware and attending undergraduate at the University of Delaware, Dixon had her eyes set on working at an international non-profit. Moving out to California and then to Washington, D.C. Jill was able to achieve a lifelong goal in working for Special Olympics International.
"I achieved my dream of working for an international nonprofit, which was a fabulous job," Dixon said in an interview. "I was there for almost 10 years in their communications department. I specialized in working with the media, creating videos and managing the photo and video library. So, I had a little bit of a librarian thing going before I actually became a librarian!"
After Special Olympics International, Jill went on to work for the National Building Museum and the American Society of Civil Engineers. At both places she promoted engineering, a preview of what was to come. Following a total of 16 years working in communications, the desire for a pace different from the demands of a 24-hour news cycle led Jill to think about changing careers. With the next big question of what to do next, Jill had a thoughtful approach.
"I thought about what kind of career would be related to what I've already done, which essentially is sharing information with people," said Dixon. "So I thought, well, what kind of other job shares information? I happened to talk to five different people who worked as communication professionals who became librarians, and I think I found my answer."
Jill attended Indiana University for her Master of Library Science and looked for a position within her newly found career field upon graduation. In her search, Jill's previous experience promoting engineering helped her connect with her first position at Binghamton and more.
"I started working at Binghamton as the engineering librarian," Dixon said. "Then, I was asked to manage the Science Library on top of that as the Science Library Coordinator which was my first administrative job. In less than a year after I started I got my second hat and I've had multiple hats ever since!"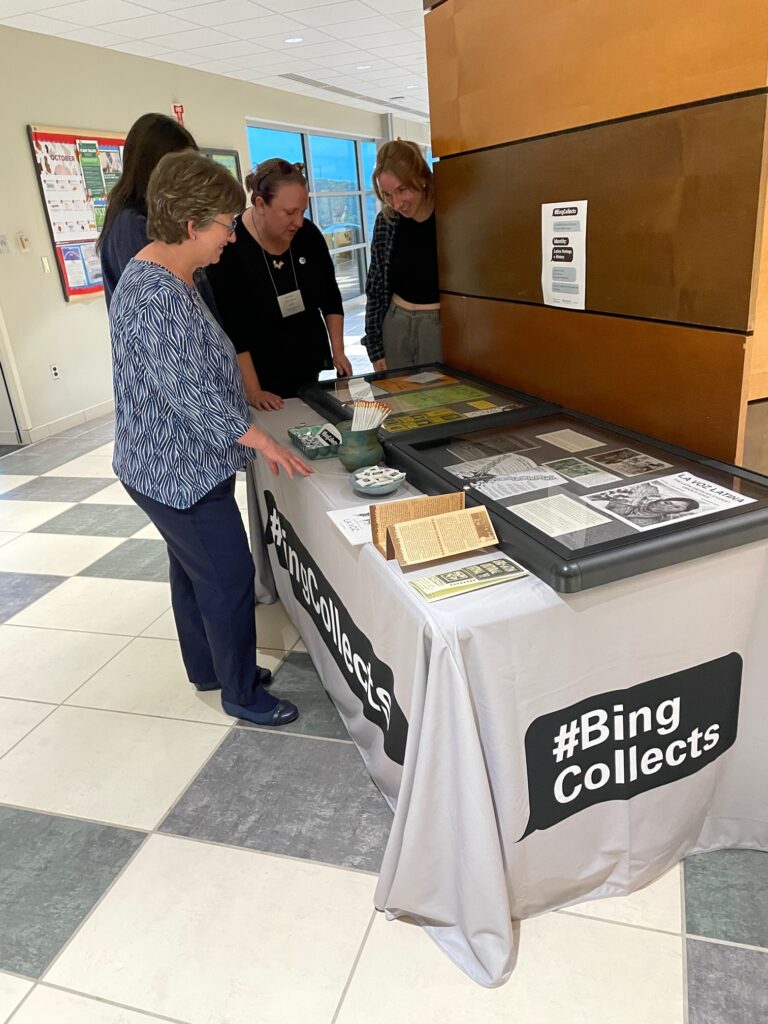 Continuing her career with the Libraries, Jill went on to wear many more hats including reference, instruction, collections, HR, budget, communications and assessment. Most recently, Jill served as the Deputy University Librarian before stepping into her current role as Interim Dean of Libraries. Serving a total of 15 years with Binghamton Libraries, Dixon reflects on what makes her time at the Libraries so rewarding.
"The first thing that comes to mind is the people," said Dixon. "It really is a great bunch of people to work with. It's been enjoyable and I got a very good sense when I got here that this was a good place to work with a bunch of positive people who were dedicated to their jobs. The second rewarding thing is our mission. I love this kind of environment working with students and faculty. I really think there is a positive energy found at Binghamton that is exciting."
Despite her busy schedule, and when she is not taking care of her two cats, Colby and Jack (yes, after the cheese), Jill makes sure to follow her personal passion of traveling. Her favorite adventure so far is Australia.
"The coolest is being in the outback in Australia in the middle of the night, in the middle of nowhere, with no ambient light." Dixon shared. "Seeing how many actual stars are out there in the universe was amazing and awe inspiring. The Great Barrier Reef is a close second."
Looking forward to her next big adventure serving as Interim Dean of Libraries, Jill keeps her "why" at the core of her work.
"It's all about helping others essentially," said Dixon. "I like challenges and I like solving problems. But beyond that, our mission of serving the University, providing high-quality resources and services for students, faculty and the community is what it is all about."
---
To get in contact with Jill, email libadmin@binghamton.edu