Green-Wood Cemetery In Brooklyn, State's Largest Cemetery, Celebrates 175th Anniversary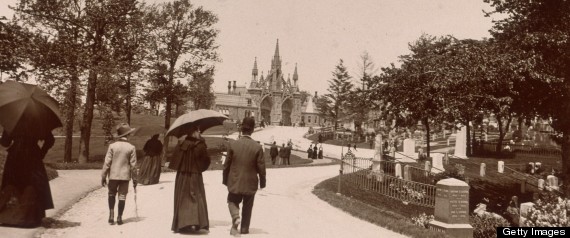 NEW YORK — Decades before New York's Central Park was created, Green-Wood Cemetery's ponds, hills and winding paths provided not only a pastoral final resting place for the nation's elite but also a recreational spot for picnics and horse-drawn buggies.
The still-active cemetery in Brooklyn was the largest cemetery in the world at the end of the 19th century. It was also the second most-visited tourist destination in New York behind the Niagara Falls.
The 478-acre site is celebrating its 175th anniversary this year with an exhibition opening Wednesday at the Museum of the City of New York. While it cannot replace a visit to the cemetery grounds, "A Beautiful Way to Go: New York's Green-Wood Cemetery" provides historical context for one of only four U.S. cemeteries to be granted National Historic Landmark status.
Founded in 1838 in what was then the City of Brooklyn, Green-Wood was an early example of the "rural cemetery." In contrast to the somber church graveyards in lower Manhattan that were rapidly filling up, it offered vistas of the New York Harbor and a new view of death that essentially said: "If you live a good life, this is the kind of afterlife you will have. It will be a place like this," said curator Donald Albrecht.
Visitors enter Green-Wood through the soaring spires of Gothic Revival-style gates designed by Richard Upjohn, the architect of Trinity Church in lower Manhattan who is buried there.
"It became THE place to be buried because of the varied features that it has," said Green-Wood historian Jeff Richman, and it attracted such luminaries as actress Laura Keene, who was on stage when President Abraham Lincoln was assassinated, New York Tribune founder Horace Greeley and "The Father of Baseball" Henry Chadwick.
"There was no Metropolitan Museum of Art or Brooklyn Museum, so you went to Green-Wood," he said. The scenic place offered an escape from crowded and unsanitary streets and an outdoor museum of hillside mausoleums, obelisks, statues and tombs designed by leading architects of the day.
Decades later, Green-Wood's natural topography became the model for the creation of Central Park, Brooklyn's Prospect Park and Llewellyn Park, N.J., America's first planned suburb.
By 1890, the cemetery encompassed 478 acres. Today, it is the largest New York City cemetery in terms of acreage with 560,000 people interred under or within 100,000 monuments or tombs. Among them are Cooper Union founder Peter Cooper; "The Father of the Erie Canal" and New York Gov. DeWitt Clinton; composer-conductor Leonard Bernstein; and graffiti artist Jean-Michel Basquiat.
The exhibition, which runs through Oct. 13, transplants visitors to the cemetery via a giant Green-Wood map superimposed on the gallery's floor and walls. Important gravesites are marked by illuminated glass cases.
It addresses five major themes: Green-Wood and popular culture; the Hudson River School painters buried there; Green-Wood's architecture; Green-Wood's influence on American parks and suburbs; and Green-Wood and mourning, which includes such 19th-century objects as a locket containing the hair of the deceased.
In the early days, when the combined population of Brooklyn and Manhattan was 1 million, 500,000 people a year visited Green-Wood. Today, it has 200,000 to 300,000 annual visitors.
Souvenirs and prints with Green-Wood imagery were wildly popular. People bought them to hang on their walls or view them through 3-D stereographs. Two vintage clocks decorated in Green-Wood motifs are among the artifacts in the show.
One thing visitors won't see at the exhibition is a singing docent.
On a recent cemetery trolley tour, volunteer guide and professional singer Marge Raymond regaled a group at Bernstein's gravesite with a rendition of his "Somewhere" from "West Side Story."
The graves of Bernstein and Basquiat are simple and among the most visited. Basquiat's, located in a row of small gravestones, stands out for the paintbrushes, stuffed animals and other souvenirs left by fans.
The cemetery also houses 30 catacombs, built because of the Victorians' fear of being buried alive. Since a coma could mimic death, they were equipped with skylights, air vents, safety caskets with buttons that flipped open the lids and bells that would sound above ground.
Battle Hill, the highest point in Brooklyn and the first major Revolutionary War battle fought after the Declaration of Independence, also is found in Green-Wood. A statue of the Roman goddess of wisdom, Minerva, marks the spot, positioned to face the Statue of Liberty in New York Harbor.
From the gravesites of 5,000 Civil War soldiers to the handsome chapel designed by the same architects of Grand Central Terminal, the cemetery is a symphony of art, architecture, history and nature. Yet today, there are New Yorkers who have never set foot in Green-Wood or know of its rich history.
"The goal of the exhibition," Albrecht said, "is to convince people that this incredible national treasure is sitting in plain sight."