Establishing and maintaining academic journals is a significant undertaking. However, digital journals offer a vital platform for collecting and disseminating essential research through open access models. Open access and public scholarship hold the key to making research more accessible to a broader audience of scholars, fostering inclusivity in knowledge sharing and production. Public repositories dedicated to open access scholarship provide a platform for interdisciplinary and inter-institutional scholarship, encouraging dialogues and collaborations.
The Libraries Open Repository, known as the ORB, hosts a multitude of such journals. These journals are the result of collaborative efforts with BePress, which partners with journal editors to craft tailored homepages aligned with each journal's theme, while also streamlining various journal management processes in close cooperation with Binghamton Librarians. The Binghamton University Libraries have made advances in elevating scholarly access. Most recently, one of the journals housed in the repository, the Northeast Journal of Complex Systems (NEJCS), was recently indexed in Scopus.
Scopus is an abstract and citation database that helps researchers quickly find and analyze research across a variety of disciplines. Beyond a database, Scopus tracks trends in research and can help users find leaders in their fields of inquiry. The addition of NEJCS to Scopus marks an incredible opportunity and accomplishment for the Journal's discoverability and reach. This accomplishment followed an extensive review process conducted by the Scopus Content Selection & Advisory Board (CSAB), comprised of an international panel of scientists, researchers and librarians. Inclusion in Scopus is no small feat; of the thousands of titles suggested annually for Scopus inclusion, only 33% meet the stringent technical criteria, and merely 50% of these titles are accepted following a comprehensive evaluation. The acceptance of NEJCS into Scopus is a notable achievement, promising heightened visibility and the addition of a CiteScore, a pivotal journal performance metric.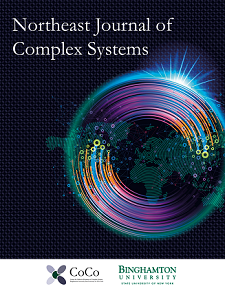 NEJCS stands as a peer-reviewed, online, open-access journal dedicated to complex systems. NEJCS emerged from the collective efforts of a community of complex systems researchers, predominantly located in the US Northeast region. It provides a viable alternative to the prevalent trend of increasingly expensive open-access publishing venues. This journal holds the distinction of being the official publication of the US Northeast Chapter of the Complex Systems Society and is managed by the Binghamton Center of Complex Systems (CoCo) at Binghamton University, with support from the ORB at the Binghamton University Library.
The successful acceptance of NEJCS into Scopus was made possible through the collaborative work of NEJCS Editor-in-Chief Dr. Hiroki Sayama,, and Head of Digital Initiatives Erin Rushton,. It is important to note that different publishers impose varying requirements for journal indexing, necessitating extensive research into qualification criteria and the implementation of necessary changes, including the establishment of a transparent ethics statement and a refined peer-review process. The concerted efforts of Rushton and Sayama culminated in the submission and acceptance of the journal.
Our institutional repository extends its hosting to other journals, including "Gobernar: The Journal of Latin American Public Policy and Governance," a bi-annual collaborative journal between Binghamton University and EAFIT University in Medellin, Colombia. This journal focuses on issues of policy and governance within Latin American countries and explores the roles of government agencies, public service entities and non-government organizations in shaping effective public policy. Additionally, "The Binghamton University Undergraduate Journal," operates as a cross-disciplinary undergraduate journal overseen by a review board comprising Binghamton faculty and graduate students, who conduct blind reviews and supervise the publication of submissions.
Both "Gobernar" and "NEJCS" equip their published articles with DOIs for ease of linking and discovery. Furthermore, they adopt a Creative Commons license, specifically the Creative Commons Attribution-Non Commercial-NoDerivatives 4.0 International License, to facilitate free downloading and sharing. Authors contributing to these journals do so without incurring publication fees, underscoring their commitment to open access and public scholarship practices.
By lowering barriers to publishing and access, these initiatives contribute to the expansion of the scholarly community, motivating broader participation. As articulated in NEJCS's mission, the philosophy underlying open access is the belief that innovative and valuable ideas should be freely accessible to the scientific community.
---
We invite you to explore our webpage to delve deeper into the world of open-access journal publishing at Binghamton and discover ways to contribute to the advancement of open scholarship and the growth of the scholarly community.