By Erin Rushton and Bern Mulligan
Recently, the Libraries added a new collection, the Binghamton Community Poets' Big Horror Reading Series, to its array of digital collections.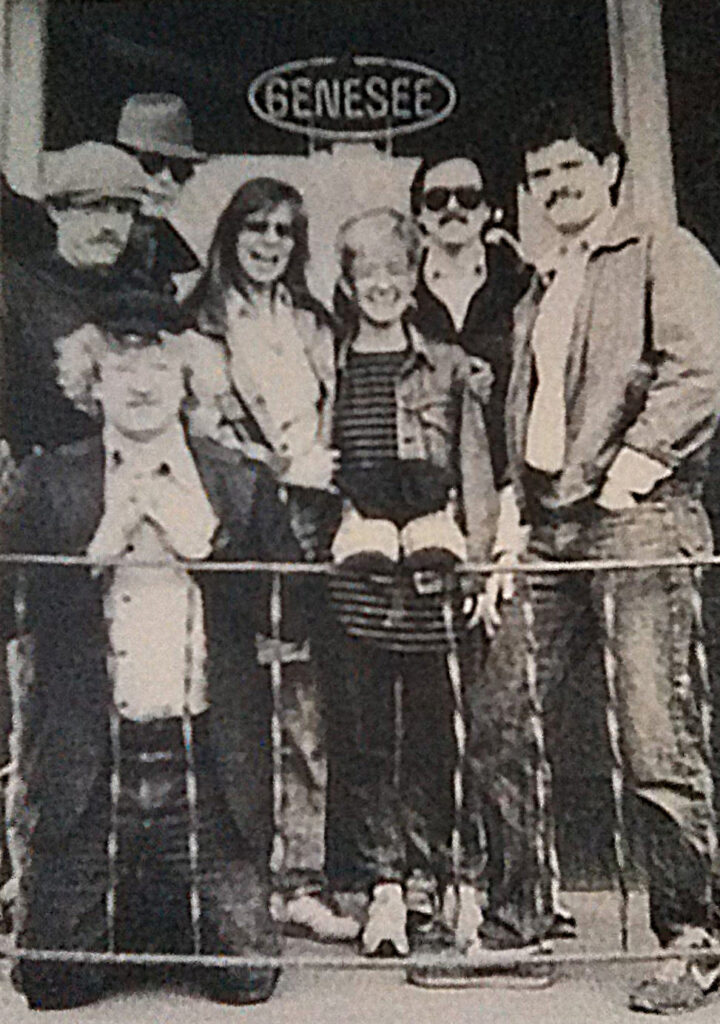 The Binghamton Community Poets were founded in 1983 by native Binghamton poet, educator and Harpur College alum Richard Martin. That year, Martin started The Big Horror Reading Series at a local coffee house. For fourteen years, readings took place at various venues around the Triple Cities. The series featured writers such as Charles Bernstein, Robert Creeley, Diane di Prima and Bob Holman, just to mention a few. It also featured former and current Binghamton University faculty members: David Bartine, Martin Bidney, Milton Kessler, Bob Mooney, Liz Rosenberg, Jerome Rothenberg and John Vernon. Many of the readings between 1987 and 1996 were videotaped in VHS format. Over the years, these were digitized, edited and produced as DVDs by Bern Mulligan, former subject librarian for english, philosophy and theatre, and have been housed in Special Collections.

Recently Mulligan, Erin Rushton, head of Digital Initiatives and Resource Discovery, and David Schuster, senior director for digital strategies, began to conceive of a project that had two primary goals:
Ensure the long-term preservation of the video files since audio and visual content stored on media such as DVDs, VHS tapes and CDs are often at risk because of file degradation and technological obsolescence.
Create a streaming collection to make the videos more visible and accessible to the University community.
Fortunately, the Libraries have Rosetta, a digital preservation system designed to ensure data integrity and access over time. Rosetta recently added a built-in video viewer, which allows the videos to be both preserved and streamed simultaneously. To accomplish this, the DVDs had to be converted to MP4s to be compatible with the new viewer. Then they were "ingested" into Rosetta for preservation and access purposes.
In addition to Rosetta, the Libraries also have Omeka, a digital asset management system. Omeka proved to be the perfect portal to present the readings to the University community. Ben Coury, The Libraries' web designer, created a landing page in Omeka that listed all sixty-eight videos in the collection in chronological order. Working with Mulligan and Rushton, Coury also created a separate page that features twelve poets reading one of their poems as an introduction to the collection. These excerpts link not only to the poet's full reading in Rosetta but also to the catalog records for the books in which they are published. This creates a unique convergence experience, as the catalog record "comes alive" and users can see the writer and hear a poem from the book before they take it off the shelf to read.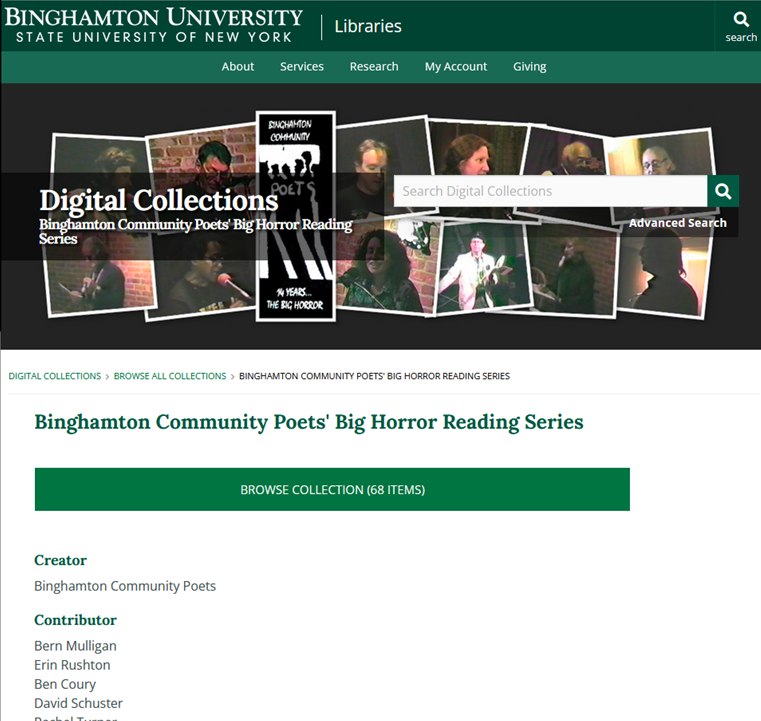 The resulting collection, the Binghamton Community Poets' Big Horror Reading Series, is an example of the Libraries' efforts in digital preservation and interest in creating unique digital collections. This project aligns with many of the goals and actions outlined in the Libraries' Strategic Plan, including diversifying collections, creating new approaches to accessing our collections and building collaborations with the community. The streaming versions, which are only accessible on campus or via campus VPN, will allow more users to view and listen to this diverse, wide-ranging collection of readings.
---
To learn more about the series and to explore the collection yourself, visit the collection on our website.