The Libraries have continued to grow to include some exceptional people to our team! This spotlight of our new hires shares a little about each of them as we welcome them to the Libraries and the Binghamton community.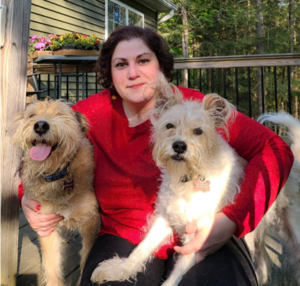 Emily J Creo
Visual & Performing Arts Librarian
Emily is a Vestal native and Binghamton alumna, having earned her bachelor's in Music and master's in Music History and Literature from Harpur College. She also received a master's in Library Science from Clarion University.

Emily is returning to academia after spending ten years as a public librarian, heading the cataloging department of the Four County Library System, specializing in cataloging nonbook materials. Outside of the library, Emily is working toward a PhD in Country House Studies, researching the changing perceptions and display of taxidermy in British country houses.

Emily is also active as a musician in the area, performing as a cellist in various local venues, and is a member of the Binghamton Community Orchestra. She is an auction addict, fanatic anglophile and passionate about animals and natural history. She is pictured here with her two rescue dogs, Mr. Wickham and (Sir Wm.) Wallace.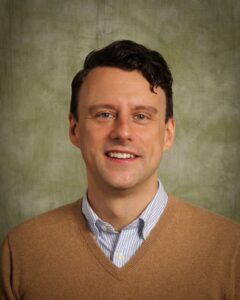 Matthew Harrick
Subject Librarian for English and Philosophy
Matthew is a Binghamton University Alumni receiving a Bachelor of Arts in English and American Literature. He graduated from NYU with a Master of Arts in English and American Literature and Queens College with a Master of Library Science.

For the last 11 years, he served as the Outreach and Education librarian at Brooklyn College (CUNY). Now, Mathew is happy to be able to use his literature background every day in his new role as Subject Librarian for English and Philosophy.

A fun fact about Matthew is that his first job was operating the carousel at Ross Park Zoo! He has a dog named Jack (who can hear cheese), and his partner mounts and pins insects. In his spare time, Matthew enjoys reading Victorian literature for fun.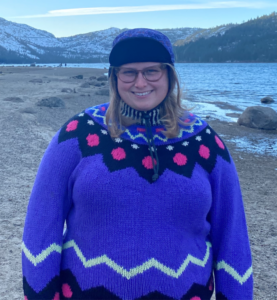 Halie Kerns (she / her)
Digital Scholarship Librarian
Halie Kerns is excited to join the Digital Scholarship team as a Digital Scholarship Librarian. Before Binghamton, she worked at SUNY Canton as an Access Services Librarian, focusing on textbook affordability and digital initiatives in the library, including leading a project to build an Information Literacy video game.

She has a Master of Information Design and Technology degree from SUNY Polytechnic Institute, where she completed a thesis that used data visualization to conceptualize historical and current book-banning trends. She also has a master's in Library and Information Science from the University of Hawaiʻi at Mānoa.

In her free time, she loves to roller-skate, knit and go thrifting.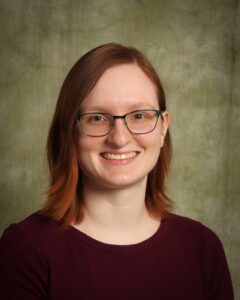 Amanda Hutchinson (she / her )
Electronic Resource Support Associate
Amanda joined the library as the Electronic Resources Support Associate in April 2023. She helps manage and troubleshoot electronic resources in Alma and FindIt! and evaluates bibliographic records from OCLC for the catalog.

She has a bachelor's degree in journalism from Ithaca College and a library technology certificate from Three Rivers Community College in Connecticut, where she grew up, and worked in community news for five years.

Amanda enjoys baking, gardening, playing Stardew Valley, going to ren faires, taking out too many library books at once and refereeing for area roller derby leagues. She has a cat named Ophelia, an axolotl named Chewy and a lot of weird fruit trees.