Recently, Binghamton University yearbooks, handbooks and newspapers were added to the Libraries' digital collections. While the physical artifacts are housed in the Libraries' Special Collections, a digital version is made available on various online platforms. This recent addition of these resources is a strong example of collaboration, preservation and the importance of creating accessible materials through digitization.
"Digitization is a way to promote what we have within the libraries because people can't always get inside the libraries to view the physical collection," said Erin Rushton, head of digital initiatives and resource discovery. "Digitization helps present our collections in a way that is accessible and highlights, I think, some of the gems that [the Libraries] have."
The first selection of yearbooks made digitally available include a total of 24 yearbooks, formerly titled The Colonist, spanning from 1948 to 1969 and The Yearer in 1970 and 1972. During that time, the collection of yearbooks were officially the student yearbooks of Triple Cities College, Harpur College and the State University of New York at Binghamton. All of these institutions would later be known as the current Binghamton University.
"The yearbooks are really cool. I feel like you get to know this campus in a way that you would never get from the marketing material from the University," said Caitlin Holton, digital initiatives assistant. "You get to see the birth of Binghamton and also what really motivated the students at Binghamton in the past."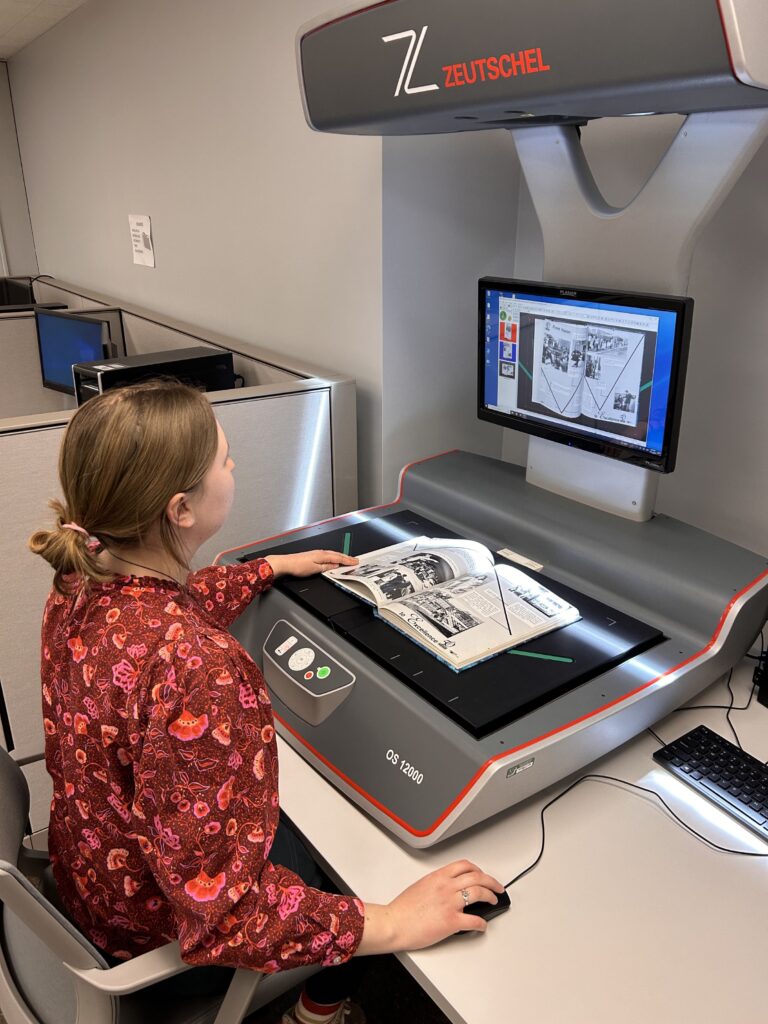 The digitized handbooks include student handbooks for Triple Cities College from 1948 to 1950, Harpur College from 1951 to 1964 the State University of New York at Binghamton from 1965 to 1975 and 1996 to 2009 as well as various academic guides and faculty and staff handbooks. Compared to the student-created yearbooks, the handbooks provide a contrast to the student perspective.
"The handbooks are put out by the University introducing new students to the physical spaces, the intellectual space, what classes are going to be like, what your expectations as a student are and kind of the social norms and the rules that are going to happen on campus," said Holton. "And over time you'll see the handbooks grow and grow. We went from the local Triple Cities College to the more globalized Binghamton University in a relatively short amount of time, so you're going to see change pretty rapidly. That's really fun to see."
Pipe Dream (formerly Colonial News) is the main student newspaper that has been running throughout the entirety of Binghamton's history. Its content is the best representation of what was happening at the University from the point of view of the student journalists. The newspapers serve as a key resource for looking up specific events, people, policies and any subject of interest relating to a time period. Made possible through the Technology and Digitization Grant from the South Central Regional Library Council in 2018, Blythe Roveland-Brenton, director of special collections and library preservation, saw an opportunity to digitize the microfilm of Binghamton's newspapers as far back as 1946 up until 1974.
While the yearbooks are a good snapshot of the student perspective and the handbooks serve as a way to identify priorities or changes from an official University perspective, Pipe Dream serves as an intersection of the two. Articles in the newspaper not only share stories about current events and policies, but also provide student reactions and commentary throughout history.
"Pipe Dream is great in conversation with the handbook and the yearbook because it's the students' perspective being applied to what's happening from the University," Holton said. "In a lot of ways, the newspaper of the past functions the same way the student newspaper functions now. It's a lot of reaction to policies that are being created, as well as things in the broader context of the world, but also how that really applies to what's happening day to day at the University."
For the three collections to be digitized and made widely available, collaboration served a key role for creating access but to promote it to users who would be most interested in seeing the past archives.
"This was a great example of a cooperative project because Special Collections is where the materials are collected, organized and preserved, but digitization and access were carried out by the digital initiatives group," said Maggie McNeely, university archivist. "We also connected with other departments as well because this has an impact on other parts of the Binghamton community. For example, we involved Alumni Relations because one of the primary reasons for sharing this material is so that alumni have access to them. Many alumni no longer have copies of fragile newspapers, and if they ever had a yearbook they may not have seen it in many years."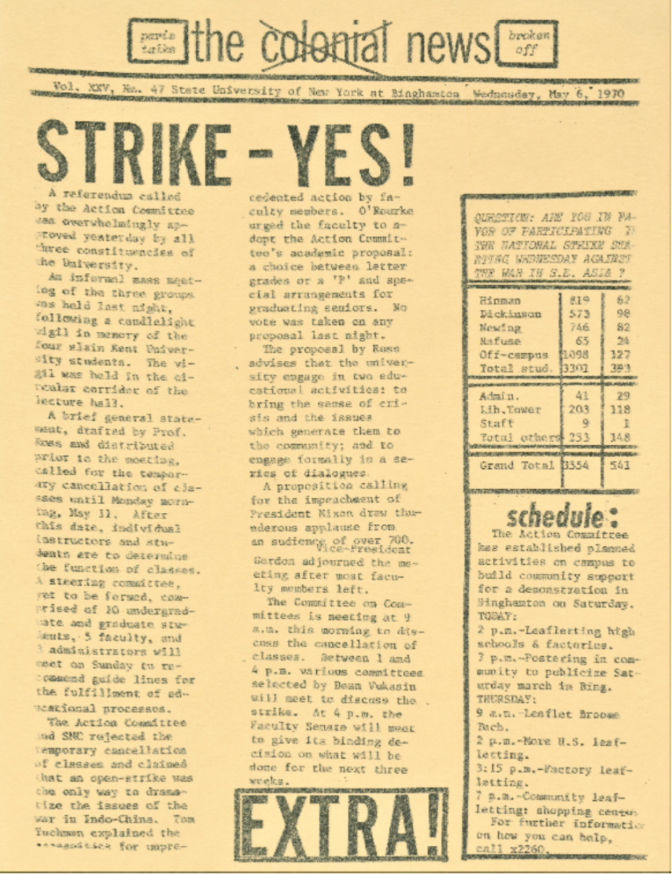 As great as digitization and access to historical documents is, it doesn't come without some challenges. From a preservation standpoint, there is the challenge of scanning the documents with great care so as not to damage the original copy. From a cultural perspective, the challenge is finding a way to share the material within its proper context.
"There's problematic material in our history because it reflects the broader history of our culture," said McNeely. "The question is not so much whether to put it out there, but how do we put it out there in a respectful way. Our intentions with these collections are to provide people with a connection to the past and provide people with the ability to get information and use materials. The nature of archives is not to hide information, but we also bear a responsibility."
Working within the Libraries and identifying key partners was paramount in addressing the concerns in sharing these digitized collections.
"I actually did a literature review and went out to see what other institutions were doing [to address concerns of insensitive material]," said Rushton. "I contacted four or five other SUNY institutions to get their feedback. We also worked to revise our takedown policy and updated our process so that, if a concern arose, we would have a method in place to address those."
A feature that was created as you access the yearbooks collection is a statement that provides some warning and context for the content the viewer is about to see. The statement explains to the viewer that the yearbooks are presented as they originally appeared and have not been altered. The hope is that this statement would provide some context for potential insensitive or offensive content.
"With this project, we put a lot of effort into examining the materials and being able to come up with solutions to informing the public about what it is that they might be seeing in these materials," said McNeely. "We worked with the Division of Diversity, Equity and Inclusion and the Libraries' Office of Inclusion, Diversity, Equity and Accessibility to help us to get to the place where we need to be in order to share this information with proper context."
Alumni can remember and reflect on their time spent at the University and current students can uncover new connections throughout history. From the material, researchers can uncover missing voices and see the growth and potential throughout the University timeline.
"It's really important to be able to see that transition of thinking over time and the representation, or lack of, different voices," said Holton. "It's important to have these resources widely available so we can begin getting a comprehensive idea of the student experience. All of these factors are worth having in the conversation to really be able to see where we can go in the future and how Binghamton has a history and has a great future."
Having University material like the yearbooks, handbooks and newspapers as a digitized and searchable collection opens the door for important discoveries.
"Digitization enables us to reach a wider audience and makes that impact so much stronger because it's not a limited group of people who get access to these special things," said McNeely. "College and university history is a very fascinating subject and, for me, is always a microcosm of what's going on in the larger world. It's amazing how many different subjects and topics can be studied through using University archives materials."
---
The digitized collection of the Binghamton University yearbooks, handbooks and newspapers can be found via these online databases:
For more information regarding yearbooks and the history of the University, please contact Special Collections at 607-777-4844 or speccoll@binghamton.edu.