In late October, Coleen Watson, host of the Wisdom of the People podcast sat down with six fellow Binghamton residents at the Broome County Public Library to discuss democracy; what's good about it, what's bad about it and is it worth doing. Watson, who is a doctoral candidate in Social, Political, Ethical and Legal Philosophy (SPEL) and director of the Critical Thinking Lab, created Wisdom of the People to bring philosophy to the people making it more accessible and relatable outside of academia. Watson argues that "in a way, everyone is a philosopher" as many people naturally question the world around them. Through the podcast, Watson hopes to give people the critical and evaluative tools needed to be more civically engaged and minded within their communities.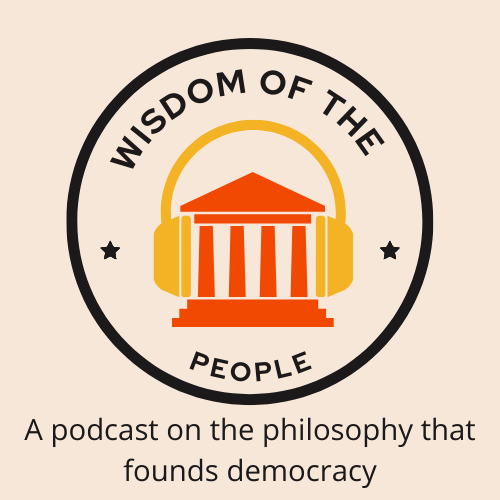 Recording an open forum at the Broome County Public Library gave Watson the opportunity to personally connect with the podcast's audience and put her mission in action. To "set the table," participants began discussing the entanglement of terms and considering definitions. The discussion then moves to democracy, republics, free speech and capitalism with participants' voices collaborating and weaving around each other. At the end of the discussion Watson guided the table back offering that "democracy in its barest form is just the idea that decision makers are the citizen's themselves."
Balancing education with empowerment and engagement is something Watson thinks a lot about as a podcast host. Sticking to the mission of the podcast and making philosophy accessible while also trying to encourage listeners to be more civically engaged requires Watson to understand not only what entertains her audience, but what drives it. Philosophy can be full of jargon terms that are difficult to re-phrase or summarize. While Watson occasionally finds it necessary to stop herself and find a way to describe larger concepts, at the same time she does not want to talk down to her audience.
"In some ways using the big words and using the jargony words shows respect for my audience. I'm not talking down to them or trying to patronize them" Watson explains. "I'm giving them the definition they need to enter into the conversation, but they can already enter into the conversation with what you have."
Learning how to engage and advertise to a general audience has translated to skills she uses to engage with the undergraduates in her courses. Watson is developing a summer course on Democratic theory and has found many similarities between creating a podcast and planning out a course and leading discussions. "Building a course syllabus has been very similar to creating episode topics," Watson said. "[Also] having a rigorous back and forth is really what it's like being a TA leading discussions."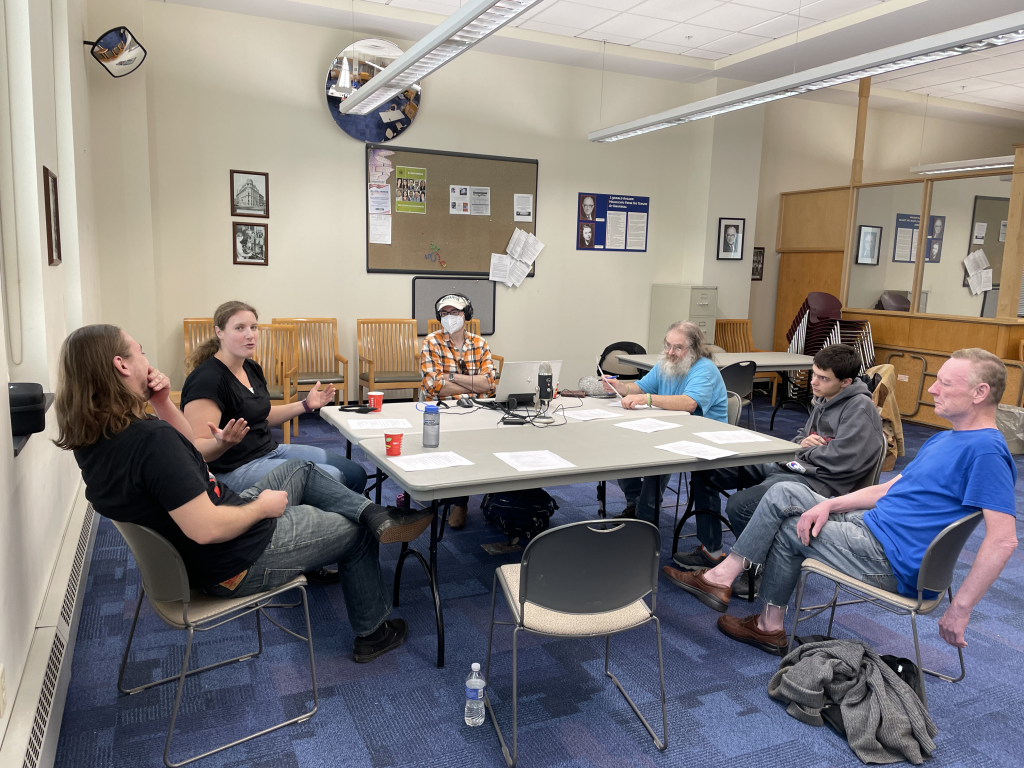 When asked about why she chose to create a podcast and the podcast's format Watson explained that it was about being realistic about skills and what you like doing and consuming in your own life. Watson is a self-described "backseat NPR kid" who grew into an avid listener of podcasts, particularly interviews. However, when thinking about her own podcast Watson realized that she was not an interviewer and did not have the skills or motivation to approach podcasting that way and neither did she have the time or resources to make a highly produced storytelling podcast. Watson argues that people shouldn't "go into doing a project like this and choose a format that you don't like to consume in your own life." So, when choosing the format, Watson asked herself "what do I like?" and pulled inspiration from the conversational podcasts she enjoyed and went from there. 
And Waton puts a lot of work into keeping the conversations in the podcast comfortable and engaging. Before each episode she offers to take guests out to lunch, starting the collaborative conversation early with choosing lunch places and menu items. She also provides readings for guests, and herself, to catch up on any larger terms so everyone can start from the same page before pressing the record button. For listeners, Watson also takes care to offer additional readings and resources with each episode both encouraging them to follow-up on any terms or concepts they might not have known, but also to become engaged citizens that are able to bring the podcasts' discussions to other civic meetings and events.
In many ways, being a civically engaged person requires you to be actively engaged in your community. As a podcast host Watson achieves that by taking care to build relationships with guests and with her listeners. Whether she is taking co-hosts and guests out to lunch, teaching in the classroom or sitting down with community members for civil discourse over a microphone, Watson shows her dedication to community building both in the podcast's mission and in how she continues to build her audience.
---
There are currently seven episodes of Wisdom of the People available for listening on the Wisdom of the People website and you can follow news of the podcast on Facebook, Twitter and Instagram.
Wisdom of the People is funded in part by a Humanities New York grant and IASH.
If you are interested in collaborating on or even co-hosting an episode, please email Coleen Watson and let her know! She is especially interested in collaborators or guests who can speak to how democracies have formed or have worked beyond the current United States Government's version.