In an effort to provide peer recognition for outstanding work within the Libraries, the Libraries launches the Golden Book Award! Presented to any Libraries employee who goes above and beyond to make a positive professional impact, the Golden Book Award honors those who may have gone unnoticed in how they contribute to the overall success of the Libraries.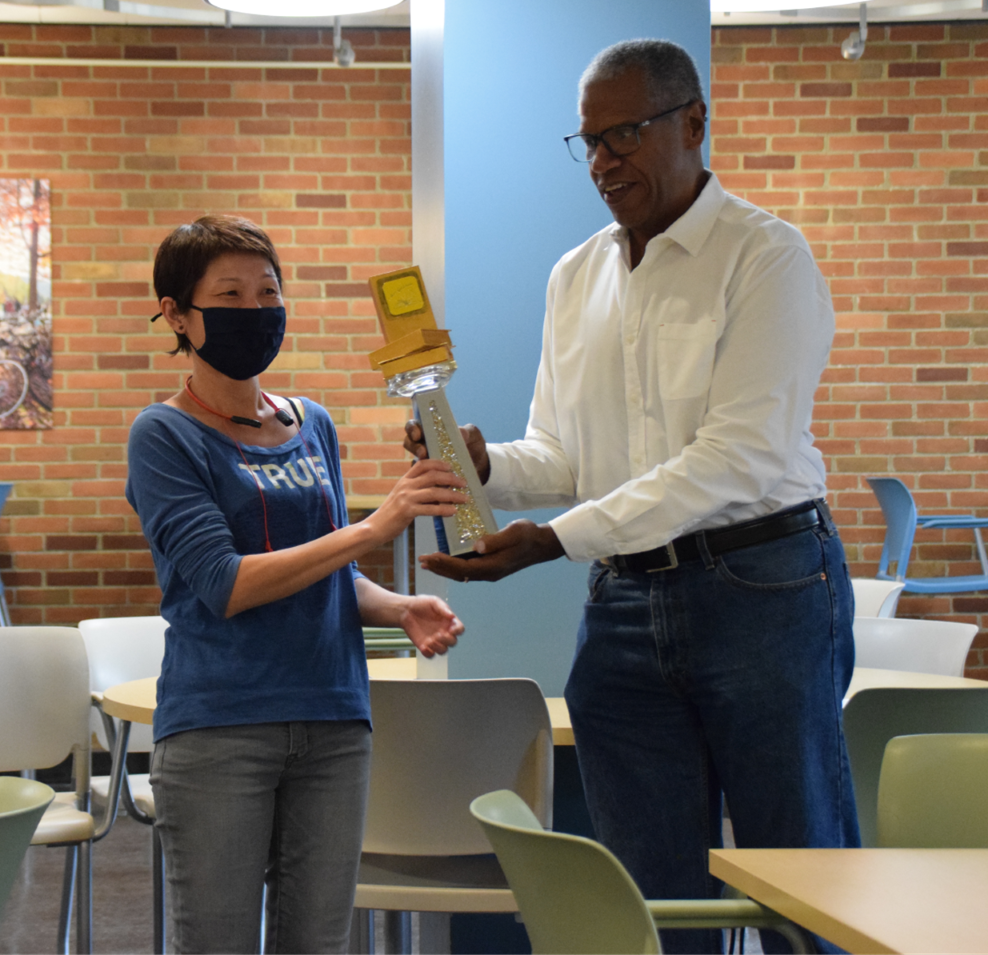 The first Golden Book Award was presented to Mien Wong, preservation specialist, during the Libraries Field Day. Starting as a library aid in 2004, Wong became a part-time preservation assistant and then to her current position totaling almost 20 years working at the Libraries. Despite the many years working in a library setting, Wong would have never imagined getting a library degree after art school and working in this field. Not one for making plans, Wong just followed doing what she enjoys most, making things and helping the community in some way or another.
"Art is therapeutic and a way of life," Wong said in a sit-down interview. "In college, I realized I had no choice but to make art, since I didn't do very well in my other classes so I dropped my dual degree in psychology and decided just to concentrate on studio art. It's like a need, you know? I think if I don't make art, just something creative, I'll be miserable."
This love of art came from an early age through family and school.
"My uncle is a restoration artist," Wong shared. "He lived with us growing up so he was always a constant inspiration. And then I had this high school art teacher who was just incredibly invested with his students' art making and very passionate about his teaching. He was the person who made me think I can go to college for art."
Growing up in New York City and attending school at Cornell, Binghamton attracted Wong as a place to settle because of its affordable cost of living and access to larger cities while still being a diverse community to live.
As a preservation specialist, a large part of Mien's job is to repair damaged books in the collection.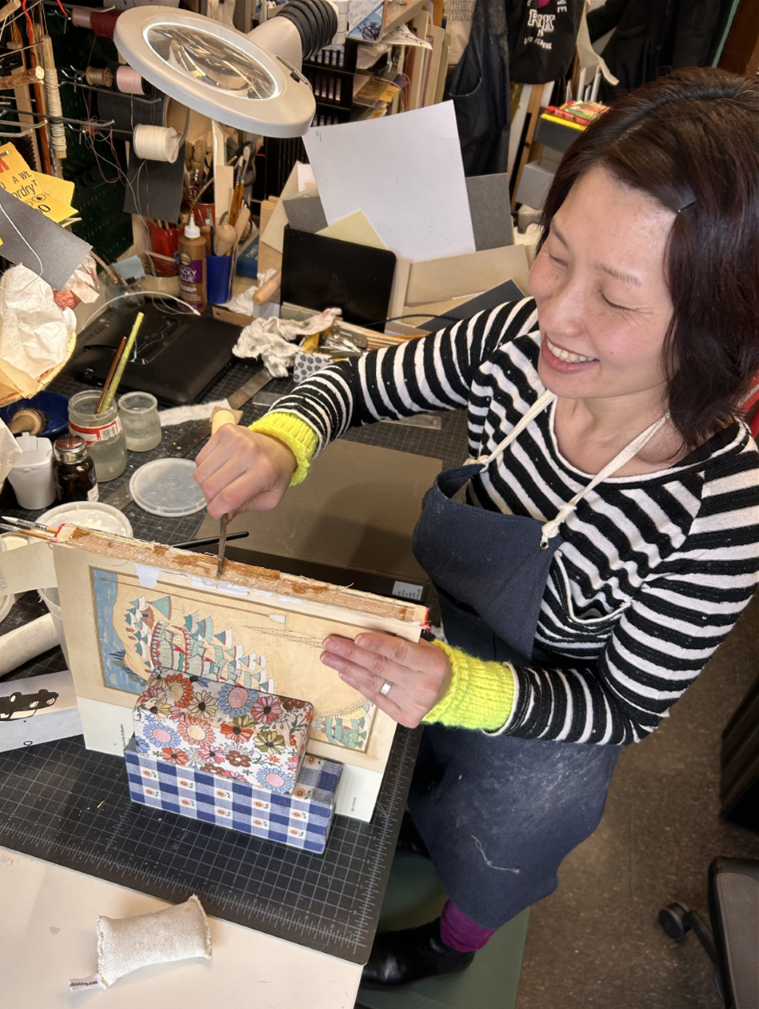 "Any kind of damage to a book that you can imagine comes to us in preservation," said Wong. "Wet books from the weather or coffee stains have to be cleaned, dried and flattened as best as we can. Loose covers or loose pages have to be reattached in some way. Some books are just old and brittle and we need to box or stabilize them so that they can be handled without further damage. One of my favorite things is giving a very damaged book a new life after it has been repaired."
While her job primarily involves making sure books have a long shelf life in the collection, another part of her job allows Wong to find creative solutions for preserving non-book items like oversized posters and textiles in Special Collections. As an artist, all the hands-on projects are what drew her into the important work she does for the Libraries.
"So there's a lot of different formats and I find it very interesting," said Wong. "I love seeing different things that come in like miniature books that need protective enclosures, scrolls that need to be rolled up carefully and boxed individually and oversized items needing to be treated a particular way."
As a traditional artist, being a preservation specialist may not be on someone's radar. But for Wong, the type of hands-on work paired with a positive environment is a perfect combination.
"I feel like people should really be educated about these other kinds of jobs," Wong shared. "There are so many types of professions that you could be in that require the same skills as an artist, teacher or whatever field you may be interested in. Over the years, I find that the library environment is one of the best places to work, because it's just so nurturing. I also think it has some of the nicest people that you can find at a workplace. Everyone's just so supportive and sincerely wanting to help out. I really appreciate that and I don't think that's too easy to find elsewhere at a workplace."
---

To learn more about the Libraries Preservation Department, visit their about page on our website.