As the fall semester gets started, the libraries' Digital Scholarship team, located within the department of Digital Initiatives, is excited to promote new spaces and services. Last semester the Digital Scholarship added a new team member, Ruth Carpenter. As the Digital Scholarship Librarian, they will be the contact for digital humanities support including help with web publishing, data visualization and project management. Amy Gay, Assistant Head of Digital Initiatives for Digital Scholarship, is taking lead for scholarly communications and support for data-driven disciplines. Together, they will be offering help through consultations, classroom visits and management of the libraries' digital scholarship and digital humanities resources. Additionally, the Digital Scholarship team has a series of events and workshops planned for the fall kicking off with a launch event for our pilot Digital Scholarship Center!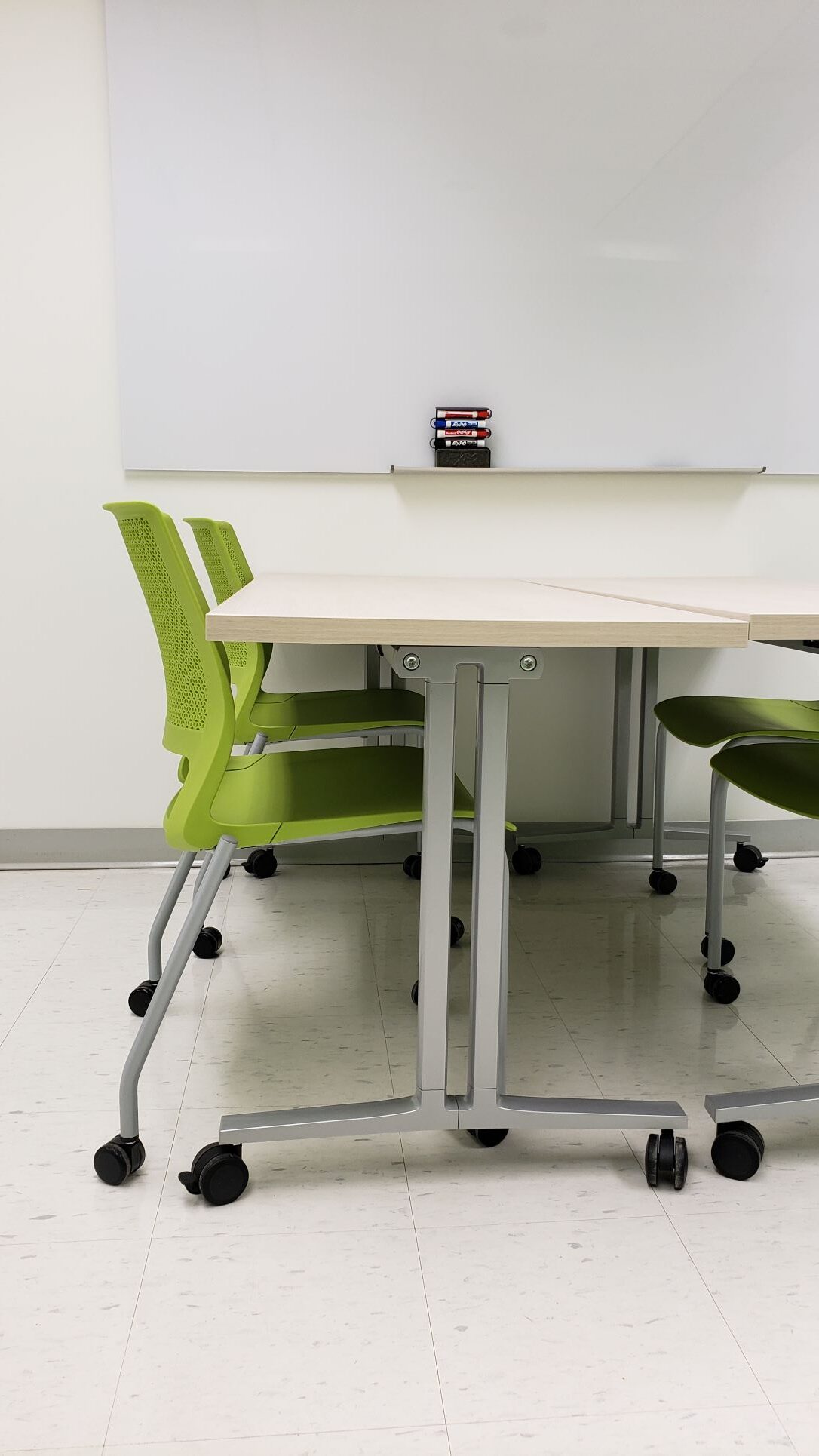 Launch Day for the pilot Center is Friday, September 30, 2022. The launch event will feature guest speakers and a digital scholarship showcase with the opportunity to network with other digital scholars across STEM and humanities fields on campus. There will also be a tour of the pilot Center where the Digital Scholarship team will discuss the various technologies and resources available within the space and the libraries in general. Currently the space houses a variety of seating options and technologies. It has spinning chairs you can go a full 360° in, larger lounge chairs with side tables and wheeled classroom chairs for easy collaborating. Multiple glass dry-erase boards means classes or project teams can brainstorm together or in small groups. The room also has a projector and necessary technologies to host workshops and presentations that might require PowerPoint presentations or screen sharing. You can come by and see the space during our launch and also enjoy some light refreshments.
Besides launching the pilot Center, the Digital Scholarship team is planning an entire fall of workshops and events. Those events include celebrating International Podcast Day also on Friday, September 30 and Open Access Week October 24 – 28. The Digital Scholarship team will also be hosting three information and workshop sessions over the course of the fall semester. There will be a workshop on using Open Refine to organize and clean your datasets as well as introductory sessions to two new resources available to campus: SUNY Create and our new collection of text mining services. SUNY Create is a web development platform that offers access to a series of applications, storage and database management tools to help build websites. It is offered through SUNY's Open Educational Resources (OER) office that the Digital Scholarship Team is working with to bring the service to Binghamton. Gale's Digital Scholar's Lab, Constellate and HathiTrust Research Center are all platforms that provide you an interface to gather text-based content, create visualizations and analyses, and apply other data-related research practices to text files.
In addition to these services, the Digital Scholarship team will also be publishing a series of blog posts featuring digital projects created by members of our campus community including work being done by scholars that discuss the impact, value and challenges of engaging with research in digital spaces. We hope that by highlighting various projects and groups across campus, it can help connect you with other scholars on campus who are working in digital scholarship or digital humanities spaces or know what work is being done! If you have a digital project or use digital tools within your classroom and would be interested in having it featured in the blog series, please reach out to the Digital Scholarship team at dscenter@binghamton.edu!
The Digital Scholarship team looks forward to the semester and hope to meet you at some of these events and workshops. Stay tuned for our other blog posts coming out this fall and for news about what we have planned for the spring!
---
Check out all of the Libraries Digital Scholarship events this semester:
International Podcast Day: What goes into a podcast?

Friday, September 30
11 A.M. – Noon
Virtual (Zoom)

pilot Digital Scholarship Center Launch

Friday, September 30
Various events from 2 P.M. – 7 P.M.
FRI Classroom (LN – G208), pilot Digital Scholarship Center (SL – 209), SL – 210

Flash Storytelling: Share what it is like being a part of the Bearcat Family

Saturday, October 1
1 P.M. – 4 P.M.
UU – 111

Data Cleaning Workshop

Tuesday, October 18
3:30 P.M. – 4:30 P.M.
pilot Digital Scholarship Center (SL – 209)

SUNY Create Info Session

Wednesday, November 9
2 P.M. – 3 P.M.
pilot Digital Scholarship Center (SL – 209)

Text Mining / Analytics Tools Info Session

Tuesday, November 29
1:30 P.M. – 2:30 P.M.
pilot Digital Scholarship Center (SL – 209)
For more information about these and upcoming events with digital scholarship, visit the Libraries website: binghamton.edu/libraries/services/digital-scholarship/index