As efforts of environmental activism expand every year while the effects of climate change become more prominent in our daily lives, the importance of understanding human interaction with the planet grows too. With Earth Day and Arbor Day approaching, the Libraries join several initiatives and groups on campus to bring awareness to this important issue. The Sustainability Hub, located in the Science Library, is a fairly recent addition to the Libraries that offers several resources for practical and educational gain. Not only is the Hub a place for research, but a space for community building and knowledge sharing.
Situated off the main lobby of the Science Library, the Sustainability Hub features a couple of shelves, seating and storage space for its many initiatives and non-traditional check-out items. While it is now a fixture of the Science Library, it started organically as conversations that grew over time. However, that initial momentum was met with an unique, yet familiar challenge.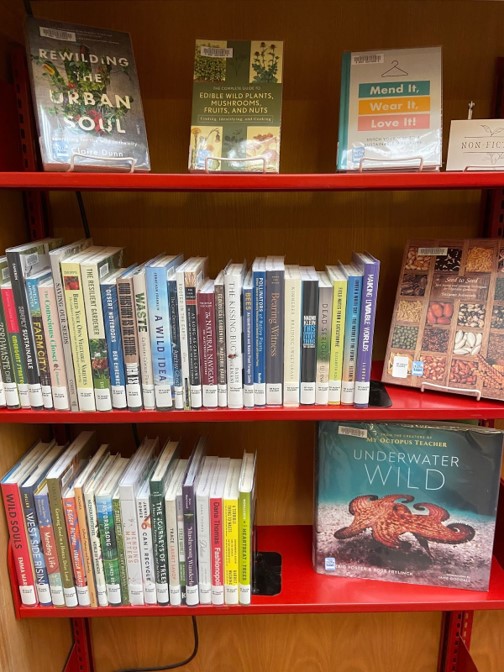 "I wanted to do something related to sustainability, so for the first three years I was here I kept trying to figure out how to be involved in it," said Neyda Gilman, Sustainability/STEM Engagement and HealthScience Librarian. "We did a few events and I started meeting with different student organizations and my initial thought was I want to get some posters and artwork out in the space that shared the sustainability message. Ideas came out of conversations with students but then COVID happened and everything stopped."
While COVID presented many challenges to the Libraries, it created an opportunity to pivot for operating more in a virtual space. Gilman alongside Jennifer Embree, Subject Librarian and now Sustainability Hub Coordinator, saw an opportunity to receive a grant from the American Library Association. The Resilient Communities: Libraries Respond to Climate Change grant provides the means for library community engagement centered around the climate crisis.
"With the grant, we created a library guide and we created this online presence where we would post all our events," said Embree. "As we started to do this work, we recognized that we really wanted to create both a physical and virtual space. This hub could be a place where people could come to find any kind of information related to sustainability that was happening on campus, to educate, empower and encourage sustainability engagement."
As the Sustainability Hub continued to grow, Gilman and Embree dug deeper into the importance of not only the opportunities they were creating at Binghamton, but the importance for the broader impact sustainability hubs might have as a whole. In December 2020, they published research titled The Library as a Campus Sustainability Hub: A Case Study in Increasing Community Engagement & Collaboration in Sustainability through Academic Libraries which documents their journey in creating the Hub and provides a definition of what they aspire it to be.
"The core of the Sustainability Hub is to engage with the community, to share the work that is being done with the rest of the campus community and to get people excited about sustainability," said Gilman. "The Hub will hopefully get others interested and contributing to the cause so that the next person who comes around and wants to figure out how to get involved has a way to discover that opportunity."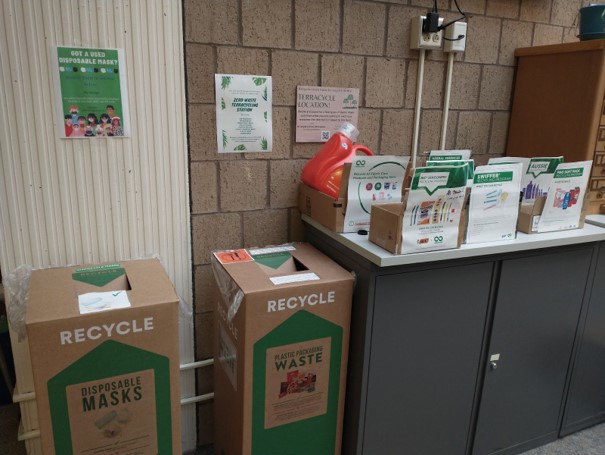 As it stands today, the Sustainability Hub offers a wide variety of physical and virtual content that supports the Hub's mission of collaboration, connection and environmental engagement. The physical space supports Terracycling stations that allow visitors to salvage hard-to-recycle items like masks and plastic packaging, Citizen Science Kits to help pollination, seed harvesting and environmental data collection as well as their non-traditional check out items like kilowatt meters and air quality monitors. The virtual space hosts recorded programs, curated lists of sustainability-related resources and ways to get involved on campus and in the local community. Most recently, the Sustainability Hub launched a brand-new Equitable Sustainability Literacy Guide: A Resource Guide for Environmental Justice and Activism which covers topics spanning from Environmental Racism and Ecofeminism to Indigenous Rights and Climate Migration.
"What's really wonderful about the Sustainability Hub is that all of it can be useful for all parts of the campus community in similar ways," Embree said. "On campus, there is a lot of focus on research in sustainability topics. While it is absolutely important to do research, research alone doesn't always allow you to embed lifestyle practices into your everyday life. The Sustainability Hub offers that other side where you can learn to make those lifestyle changes or to see what you could do more practically to live more sustainably."
A unique offering of the Sustainability Hub that has shown the most popularity is the Seed Library. While it is relatively new to the Hub, the Seed Library serves a significant role in community and cultural preservation.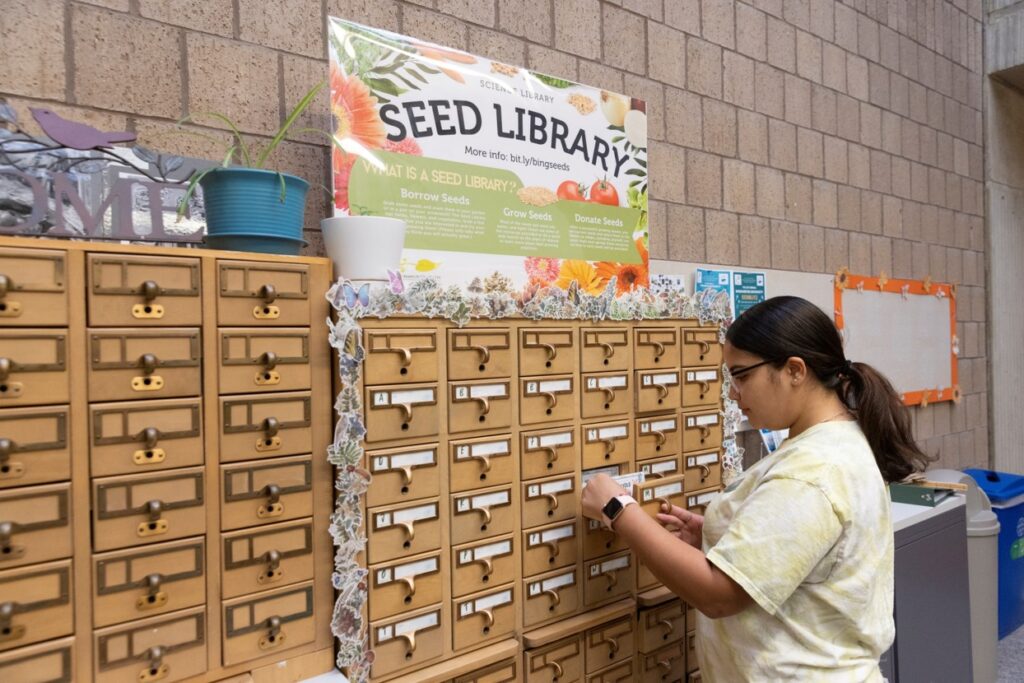 "Traditionally, seed libraries are places where you could go and get seeds for a variety of different plants that you take home and grow on your own," Gilman explained. "Then if those plants are successful and go to seed, you can harvest those seeds and bring them back to the library for you or others to use the next spring. Seed libraries provide an easy and inexpensive way for people to try their hand at growing things. It encourages growing your own food or even flowers at home and even if it's just in a pot on your windowsill, it can be very beneficial to your mental health. Seed libraries also have a cultural importance because it helps prevent the loss of certain types of plants. The Seed Library provides a way to save and store seeds as well as to share them."
Taken literally, the Sustainability Hub is just that: a singular location where information on sustainability can be found. For Embree and Gilman, that ultimate mission is not lost on them.
"I want it to be a place where people can find information about eco-friendly student organizations on campus and all the cool work they are doing, any type of information for their topic of choice, or to find others who are also interested in this work," said Embree. "I really want it to be that space where you can locate all that information in one area."
What started as a need for sharing information and finding others who have similar passions for the planet evolved and has become a firmly rooted fixture in the Science Library. Looking forward, the Sustainability Hub has aspirations to grow with the support of those it serves.
"I want the Sustainability Hub to allow someone to engage with the community even more," said Gilman. "I want it to be a space where everyone can contribute to the Seed Library or share their research in a talk or share their artwork that they were inspired to create with the rest of the community. I want to make sure we are providing all the resources we can all benefit from."
---
To learn more about the Sustainability Hub, visit online at libraryguides.binghamton.edu/sustainability or in person at the Science Library.
Be sure to check out their newest online resource: Equitable Sustainability Literacy Guide: A Resource Guide for Environmental Justice and Activism
For upcoming events sponsored by the Sustainability Hub, visit libraryguides.binghamton.edu/sustainability/upcomingevents