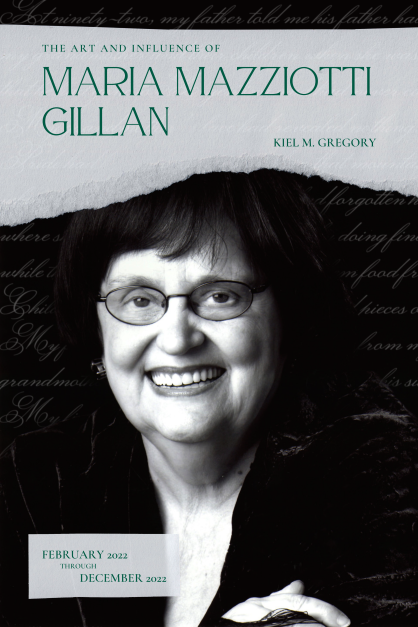 "Poems hide in a place deep inside of you that I call the cave. The cave is guarded by a crow that whispers in your ear in the voice of every authority figure you've ever encountered. […] In order to write, you have to get rid of the crow; you have to push him out of your way. Only then can you enter the cave where poems abide. […] You have to enter the cave to find all the stories you have to tell and all the poems you have to write."
–Writing Poetry to Save Your Life: How To Find the Courage To Tell Your Stories by Maria Mazziotti Gillan*
The newest Binghamton University Libraries exhibit features the works of Maria Mazziotti Gillan, professor emerita of Binghamton University, as part of the Guest Curator Program. Created by Kiel Gregory, M.A. candidate, youth initiative special projects coordinator for the Center for Civic Engagement, and tutor coordinator for Upward Bound, this exhibit highlights the impact of Gillan's work, a unique cultural voice, and a gateway to inspire others to share their own perspective.
"Maria has done considerable work in the area of culture and identity," said guest curator Kiel Gregory. "What's interesting is that there is so much diversity in lived experience. In other words there's so much to identity that the scope of it is so broad. Part of Maria's passion, I believe, is helping people find a way to talk about their lived experience that is not constrained by any aspect of identity."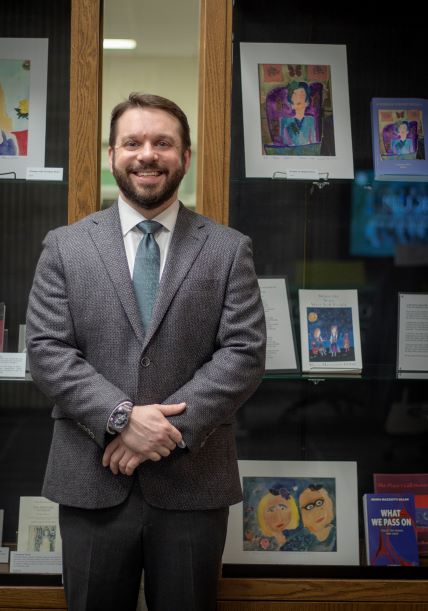 Showcased prominently in the lobby of Bartle Library, the Gillan Exhibit features several collected volumes of poetry including Ancestors' Song, anthologies including Growing Up Ethnic in America: Contemporary Fiction About Learning to Be American and hand drawn portraits, some of which have been featured on the covers of her works. Gregory drew inspiration for the exhibit from personal ties.
"The main source of inspiration for this project was the enormous generosity and guidance in the craft of poetry that Maria has shown me over the years," said Gregory. "The exhibit is a way for me to use the resources and opportunities available to me at Binghamton University to repay and show reverence to a woman and a poet who has given so much to the world of literature."
Gregory was able to create this exhibit through the Guest Curator Program which invites members of the Binghamton community to showcase a perspective they are passionate about. Additionally, this opportunity provides a unique experience usually reserved for librarians and museum curators.
"The point of [this program] is to get community voices into the library to do content that they want and to gain experience putting on the exhibit," said Rachel Turner, Head of Cataloging and Metadata, Judaic Studies Librarian and chair of the Guest Curator Program. "We need to acknowledge the diversity and celebrate that and help underrepresented groups come to the forefront."
During the process of making the exhibit, Gregory learned how much time and dedication it takes and how many people are involved throughout the Libraries to execute such a project.
"It was a much larger undertaking than I had anticipated," Gregory said, "and – due to the degree of work and energy and time that was necessary to dedicate to this project – I got to meet so many cool and interesting people through the library, through Special Collections and through Preservation. I am quite proud of the work and the way that the work turned out but I will say I got some very valuable feedback and some really valuable help from Yvonne, Rachel, Mien, Jeremy and Erica."
The exhibit featuring Maria Mazziotti Gillan not only serves as a retrospective of her work, but serves as a springboard for future poets. Included in the display is a call to visit additional work located in the Gillan Archive, housed within the Libraries' Special Collections Department, as well as an active link to Gillan's own literary journal where visitors are encouraged to explore further.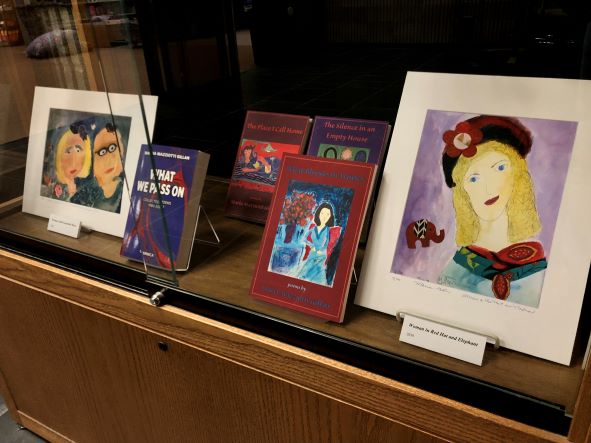 "I hope viewers spend some time enjoying the curation of Gillan's poetry displayed alongside the books from which they were excerpted," said Gregory. "I also hope viewers are inspired to visit the Libraries Special Collections department to view the Gillan Archive or any of the other archives and selections made available by the knowledgeable, helpful staff in Special Collections. Additionally, I incorporated a QR code that visitors can scan to submit their own poetry to the Paterson Literary Review, which is a literary journal edited by Maria and published by the Poetry Center, which she founded at Passaic County Community College."
The Art and Influence of Maria Mazziotti Gillan showcases the lasting impact that Maria Gillan has had, and continues to have, on the literary community. Gillan's message, in its many forms, is profound and inspirational.
"It's essential to tell these stories no matter our culture, no matter our identity," Gregory said, recounting Gillan's message he's heard during one of her workshops. "Everyone has a story to tell and there's space for everyone to tell their story."
*Gillan, Maria M. Writing Poetry to Save Your Life : How to Find the Courage to Tell Your Stories. MiroLand, 2013.