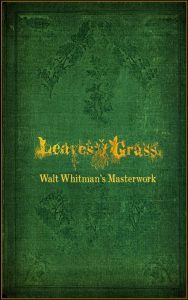 Libraries and poetry lovers around the world are commemorating the 200th birthday of the great American poet, Walt Whitman, born on May 31, 1819, in West Hills, NY on Long Island. Writing and revising his collection of poems, Leaves of Grass, which was first published in 1855 and is composed in free verse around themes of identity, love, sexuality, democracy, loss, and death, was his lifelong work. This fluid compilation was extensively edited, expanded, and perfected. Following the final "Deathbed Edition," his work continued to appear in numerous annotated editions and has been the subject of much critical analysis. Versions have been reproduced as facsimiles and published in illustrated volumes with photographs, paintings, and drawings. It has also inspired new works by musicians, book artists, and typographers. Selections are included in many anthologies and even in children's books. Whitman and his ever-evolving Leaves of Grass generated praise, critique, and discussion from the moment it made its first appearance to the present day.
In the upcoming months, the Libraries' Special Collections will display some of its holdings related to Leaves of Grass. Like the work itself, the exhibit will change during the course of its installation — volumes will be added and removed, pages will be turned and unfolded, and our original first edition will be on display on selected days. Follow us on Twitter @bingspeccoll to find out when.
The exhibit will be on view May 31 through October 15, 2019.
See also: Library Exhibits: Special Collections