Finding Frankenstein: On the trail of a monster across Europe
By John Malathronas, for CNN  June 20, 2016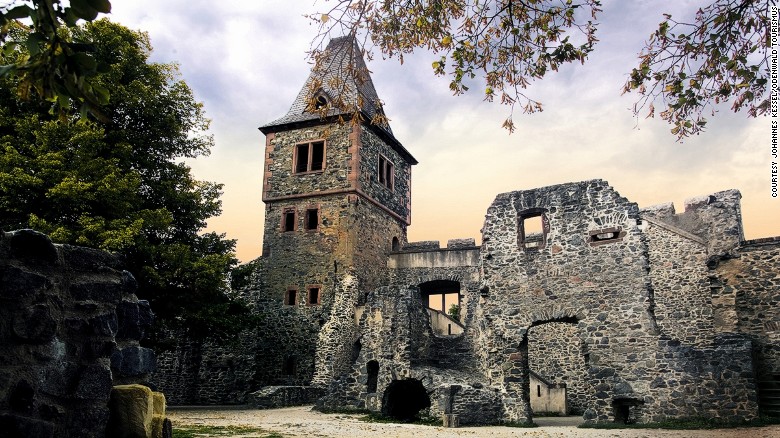 Castle Frankenstein – Two centuries after author Mary Shelley conceived "Frankenstein," its gothic echoes can still be found across Europe. Castle Frankenstein near Darmstadt, Germany, was the birthplace of alchemist Conrad Dippel, whose purported experiments on the human bodies may have inspired Shelley.
(CNN) 
I'm standing at the square of Plainpalais in Geneva trying to escape the clutches of Frankenstein's monster, my expression one of horror and disgust.
The monster stands a couple of feet taller than me, its hair disheveled, its serrated chest exposed, its eyes focused creepily at the park in front where skateboarders and BMX bikers buzz around carefree.
"That's good, hold it right there," says Cyrille and takes a picture with my cellphone.
Historian and guide Cyrille has been taking me around the Swiss city on a Frankenstein tour and the statue of the monster at Plainpalais, the site where it committed its first murder, was too good a photo opportunity to miss.
Frankenstein is a niche but growing attraction in Geneva, fueled by the bicentenary of the monster's creation.
It was in June 1816, 200 years ago, that a group of five young people from England gathered in a villa overlooking Lake Geneva and tried to scare each other with ghost stories.
'Waking dream'One of them, 18-year-old Mary Godwin, had a "waking dream" which she recounted one night and transfixed her audience, which included the English romantic poet Lord Byron.
Mary was accompanied by her future husband, the 23-year-old poet Percy Shelley, who had abandoned his first wife and children to elope with Mary.
They were all free-thinking bohemian spirits — what we would call today alternative creatives.
Byron encouraged Mary to write her scary story down; she started immediately and called it "Frankenstein or the Modern Prometheus."
Byron sent her manuscript to his publisher with the comment "pretty good work for a girl of eighteen."
A copy of that first edition stares me in the face. It's one of the six author copies Mary Shelley received herself and it's full of annotations; most would find their way into the second edition.
Literary summer
The Geneva-based Fondation Martin Bodmer, one of the biggest libraries of rare books in the world is celebrating the bicentenary of Mary's nightmare with an exhibition.
There are portraits, paintings, first editions and manuscripts that explain the background and recreate the setting of that literary summer.
Professor David Spurr from the University of Geneva, curator of the exhibition, fills me in.
"That was 'the year without a summer'," he says. "Mount Tambora had erupted in Indonesia in 1815 in the largest explosion in recorded history.
"The volcanic ash cooled down the atmosphere causing freak weather patterns for three years afterwards."
He shows the 1816 meteorological records from Switzerland; the maximum temperature in June varied between 10-12 C (50-53 F).
A handwritten note says that even at the end of the month "there was not a single leaf on the oak trees."
"The miserable weather forced the party to invent their own entertainment," he adds.
"Byron took up lodgings at Villa Diodati at the top of a hill in Cologny, while the Shelleys stayed at a small house in Montalegre, 10 minutes walk away by the lakefront."