Each year, the libraries hire, train and host more than 250 student employees. These students participate in services ranging from overseeing service desks at night to scanning additional content for our digital libraries. Some student employees have Federal Work-Study allotments and some are hired as interns or student assistants as special projects arise. Did you ever wonder what it would be like to be a librarian when you were a student? What an opportunity it is to have an academic library as your workplace as an undergraduate!
Amanda Murphy '18 knows that firsthand. She transferred to Binghamton from SUNY Broome Community College and worked as a page at Bartle Library for two years.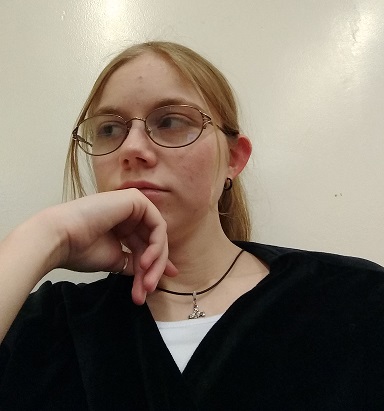 "There were two libraries I went to as a kid," Murphy said. "The closest one to my house was the Nineveh Public Library in Nineveh, N.Y., which is a very small town along the Susquehanna River. The library is a one-room building about the size of the Special Collections room in Bartle Library. I always love telling people about it because they are so surprised at how small it is. When I was young, the young adult section was very small; I had read most of it before graduating from high school. For summer programs, I went to the Sidney Memorial Public Library in Sidney, N.Y. That was a larger public library, but it was at least 30 minutes from home, so I didn't go there as much as a kid. It was a big deal when I did. When I started at SUNY Broome, I was very intimidated by the library there because it was way bigger than I was used to."
Murphy's completed two concentrations when earning her bachelor's degree in English — one in creative writing and the other in global studies.
"What I remember most about the Binghamton University Libraries is the time I spent as a page in between semesters," she said. "I was able to see a lot of the processes that go on in libraries that facilitate access to so many resources. I was very interested in those processes, and that's what led me to pursuing my master's degree. I'd also borrow books simply for leisure reading, especially between semesters. I was an English major, so I usually wrote papers on books assigned in class and purchased through the bookstore. But I had some other fields I was interested in, and the library has books in those fields, so I was able to explore those fields at my leisure. It seemed that whenever I was looking for something on a specific topic, the library had at least one book on it and access to many articles as well. I remember specifically that The Earthsea Cycle was recommended to me because Ursula K. Le Guin's writing has had such an impact on literature, but I was having difficulty finding it in the public libraries because it was a very old series. Binghamton University Libraries did have the work, as well as plenty of other books written by Le Guin. I was very happy to have been able to find the series and read it without committing to purchasing it. "
As an employed student living off campus, Murphy managed to put her studies first. The Libraries helped her find balance.
"I lived with my family 40 minutes away from campus, so it wasn't always easy to study at home. I had to juggle my time between classes, work, family and commuting, and finding time in between all of those for papers and studying. The quiet study room really helped my study habits because it was free of distractions. Having a space like that helped me focus on what I needed to get done."
"As a general note to undergrad students: Don't be afraid of the library. No one at the reference desk will be angry if you ask them a question, because they are there to help you find the answer. And the most important study habit is time management. If you've mastered that, all the other habits will come easily."